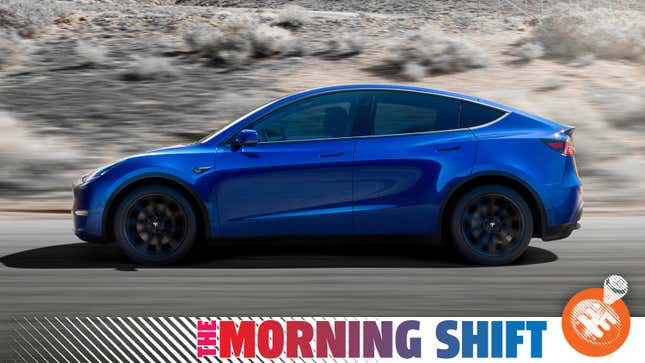 The Model Y remains in the crosshair of Tesla's price antics, Nissan and Renault's plan for the future heavily involves North America and Faraday Future just began the week with a win, the way we all wish we could. All that and more in The Morning Shift for Monday, February 6, 2023.

Nissan Finally Turns a Profit
1st Gear: What Goes Down Must Come Up a Little
Ever since Tesla again became eligible for federal EV tax credits under the Inflation Reduction Act in January, the Model Y has been singled out as a prime example of how the government's system of classifying vehicles doesn't work. The two-row Model Y was classified as a passenger car, while the three-row model was grouped with SUVs. However, the price cap for credit eligibility for cars is much lower than it is for SUVs — $55,000 versus $80,000 — and the two-row Model Y was too pricey to realistically fall under the former threshold.
Late last week, the U.S. Treasury decided to ditch Corporate Average Fuel Economy criteria and switch to the EPA's, which now means all versions of the Model Y are seen as SUVs in the eyes of the tax man. It also means Tesla can now get away with raising prices of the cheaper models, which it had previously reduced in order to access the credit (and because it's just been into that lately). From Reuters:
Tesla Inc raised prices in the United States of its best-selling vehicle, the Model Y, by $1,000 after the government raised the ceiling on the price of crossover electric vehicles eligible for tax credits.

Tesla increased the price of the Model Y Long Range to $54,990, and the Model Y Performance to $57,990, an increase of $1,000 each, according to current and previous prices posted on its website.

It was the second increase in price for the Model Y Long Range over the past two weeks.

The models remain 15% and 17% cheaper, respectively, than they were before Tesla slashed prices last month to stoke demand, before accounting for the $7,500 tax credit buyers now qualify to receive.

[...]

At its previous price, a Tesla buyer of a [base] Model Y would only have been able to add about $1,000 in extra features, such as a tow hitch, before pushing the price above the level at which the tax incentive would apply.
As Reuters explains, the Model Y is still much cheaper these days than it was last year, so Tesla can get away with a $1,000 hike. Orders for all models were reportedly twice Tesla's manufacturing output after the mid-January cuts. It'll be interesting to see how long this obsession with low, low prices last, until we all wake up one morning and every Tesla is arbitrarily 20 percent more expensive again.
2nd Gear: Here's How Renault and Nissan's New Agreement Will Impact North America
Today Renault and Nissan finally agreed to the new terms of their alliance that we've been hearing about for what feels like months. We wish both companies a prosperous future now that they've renewed their vows, and I for one look forward to not reading about the negotiated-but-still-unofficial details every single time I do my morning news crawl.
The crux of the deal is that Renault will reduce its stake in Nissan to match Nissan's stake in itself, and Nissan will invest in Renault's EV arm, Ampere. What's been less talked about through all of this is how the deal will impact the companies' business ventures in North America, and Automotive News has some insight on that front:
In Mexico, Nissan will produce a new model for Renault making it the first Renault vehicle produced there in 20 years. Renault Group models were last sold north of the border in the U.S. in the early 1990s, but CEO Luca de Meo said there are no imminent plans to reenter that market.

The repositioning comes despite the French automaker's recent announcement that it plans to leverage the U.S. market as a key revenue driver for its Alpine sports car brand. The company want to sell two models in the U.S., including a midsize electric crossover, starting in 2027 or 2028.

Speaking at a joint press conference, de Meo said Renault's presence in Mexico would focus on bolstering Renault's business in Latin America, especially Argentina, Brazil and Colombia.

"It's actually not in the plan to imagine, let's say, Mexico as a platform for us to go to the U.S. That's what Nissan does," de Meo said. "We're more looking at a way to use Mexico to kind of balance Latin America so you can play in three or four countries."
For Nissan, the appeal is that Renault will help it fill up its factories in Mexico; for Mitsubishi, Nissan will help it expand its North American lineup. Alpine entering the U.S. is assuredly the most compelling piece of the puzzle, for you and I. We've been star-crossed with the A110 for too long.
3rd Gear: Ford Limits Executive Bonuses
The dismal end to 2022 in which Ford was marred by "deeply entrenched" industrial issues and "dysfunctionality" has resulted in the automaker cutting bonuses to top executives, per an Auto News report today. Not entirely removing bonuses, of course — that's rarely how this works.
A day after a "frustrating" earnings report, Ford CEO Jim Farley told employees in a letter that he is cutting the percentage used to calculate bonuses for senior leaders including himself.

The letter, co-signed by CFO John Lawler and obtained by Automotive News, explained that for 2022, the company's salaried work force is scheduled to earn 148 percent of their bonus targets, largely due to strong operating cash flow and improvements related to service warranties. Top executives' bonuses are being cut to 90 percent, he said.

"This decision was not made lightly, but accountability starts at the top," Farley said in the note. "Our senior leaders have a significant impact on driving the business results and must live up to the high standards we need to create a vibrant, profitably growing Ford."

He said he would provide additional details about the annual incentive compensation plan for 2023 later this month.
In other words, senior leaders will still get most of their planned bonuses, but less than originally planned, even though they massively bungled 2022. Meanwhile, 2,500 jobs are still under the axe in Europe.
4th Gear: Faraday Got the Win It Needed
I will never understand how Faraday Future, a company that has been unsuccessfully trying to build the same car for the past six years, hasn't up and died yet. But it continues to soldier on, and its investors got a small win today, as shares of the startup rose almost 30 percent in premarket trading after the company announced it now has the cash to begin manufacturing the FF 91 in March. From Reuters:
Shares of Faraday Future Intelligent Electric Inc soared about 28% in premarket trading on Monday after the company said it had raised enough funds to start production of its electric luxury car FF 91 Futurist in March.

Delivery of the sports utility vehicle, originally slated to start in late 2022, will now begin before the end of April, the company said on Sunday.

The development offered a spot of relief to investors who have seen the stock plummet 92% since listing in July 2021 as the loss-making startup grappled with a boardroom battle, governance issues and a dwindling cash balance that hurt its production plans.
The FF 91 was first unveiled in January 2017. If you'd asked me in, say, 2021, whether it'd beat the Cybertruck to market, I'd have probably put my money on Tesla. But here we are. I suppose a lot can go wrong in the next month, though, so let's return to this in a few weeks and see how Faraday Future's faring.
5th Gear: Solterra Update
One in every 100 Subarus sold as of late has been a Solterra. That's according to the latest data from the Japanese automaker, shared by InsideEVs.
The Japanese manufacturer managed to sell 499 Subaru Solterra in January (1.1 percent of the total volume). That's less than in December (825) but more than in November (94). The cumulative number is 1,418.

Subaru sales last month: BEVs: 499 (new) and 1.1% share; PHEVs: N/A

Subaru offers also one plug-in hybrid model, but it does not report its sales (the Subaru Crosstrek Hybrid plug-in hybrid, but it's counted together with other Crosstrek versions).

The sales result for the Toyota bZ4X will be available in April (quarterly numbers) so we can't yet compare it with the Subaru Solterra. In 2022, Toyota delivered 1,220 bZ4X.
Of course, like the bZ4X, the Solterra was beset by Toyota struggling to find a way to keep the electric SUV's wheels from coming off. That's been addressed though, and now both cars can dutifully serve their rightful roles in their respective lineups: unconvincingly helping each brand pretend to care about EVs.
Reverse: Unlike the E-Type, Actually Pretty
It's said the the Mercedes-Benz 300 SL "Gullwing" went on sale on this day in 1954, 69 years ago. Courtesy Automotive History.org:
On the Radio: Beastie Boys - "A Year and a Day"
Been listening to plenty of Beastie Boys over the past week, for probably the first time since I was in high school. Not sure why! Still bummed MCA's gone.