One complaint that could be leveled at Porsche's 944 is that it never had enough pushrods and rocker arms. Today's Nice Price or Crack Pipe '83 addresses that dearth with an SBC. Let's see if its price needs addressing too.
I once had a boss whose mantra was 'No bad news on Friday.' His line of thinking was that Monday's are shit to begin with, so why not save the drama for then and try not to ruin a perfectly good weekend?
We managed to totally eschew that advice last Friday. That came by way of a KA24DE-swapped 1975 Datsun 710 wagon that, while far from a garage queen was most certainly a drama queen.
Offered up by one of our Jalop brethren, its issues were constant flagging of its Craigslist ads and a $7,000 price that faced the gauntlet of our assessment. That proved for a dramatic finish, coming in with a 60 percent Crack Pipe loss.
G/O Media may get a commission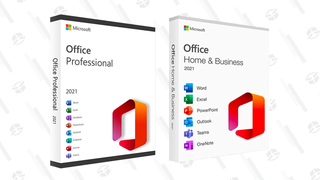 89% off
Microsoft Office Professional 2021 Lifetime License
Seeing as it's Monday, the start of a new week with unforeseen pitfalls on the horizon, let's give the drama a rest. Maybe instead we'll look at something that might just put a smile on your face. Maybe even some lust in your loins.
Like Friday's Datsun, this 1983 Porsche 944 has seen its original motor thrown to the wolves, and replaced by something a bit meatier. In this Porsche's case, that's a 350 CID Chevy V8.
Now, like classic black oxford shoes, the SBC seems to make a case for itself no matter where it goes. I've seen them wedged into Model A hotrods, packaged side-by-side under the decks of modest sized cabin cruisers, and even in heretical adoption under the hoods of Cobra kit cars. Adding one to a 944 isn't all that hard as the small block's modestly compact nature and the Porsche's reasonably spacious engine bay seem a match made in heaven. The only real question is; how good of a job was the install?
This car seems to have had some thought and attention to detail put into its conversion. Not only does the mill look right at home there under the be-bubbled hood, but there have been additional upgrades made to account for its weight and more hair-chested output. Those include beefier front springs in consideration of what's likely about 100 pounds more weight in the nose. Wilwood calipers and master cylinder should make reining in the engine's claimed 350 horsepower a little easier too.
The stock 5-speed transaxle sits in the back and the seller claims that it'll handle street fights just fine. He says it won't be up to the task if your plans include quarter mile runs or tire destruction on the regular, but that beefier options are available if they do.
The bodywork looks to be in decent condition. The American spec front bumper has been tucked back into its opening for a cleaner appearance. Making up for that a bit, the hood sports a Corvette-esque two-tier center section to clear the carb and air cleaner on the small block beneath. Cookie cutters underpin and look totally righteous.
Inside, things looks reasonably tidy and surprisingly intact. The dash is remarkably free of cracks and sports Speedhut gauges that are claimed to be all in working order. The flat bottomed seats show their age, as does the carpet and the center console around the shifter. Overall, there are no apparent red flags in here.
The seller lists all the work on the car and the costs, rounded up no doubt. That's all well and good, but as we all know you're not buying the work that wen't into it, you're buying the car as it stands. As it stands, this one is $9,500.
That brings you a clean title and the promise that it may or may not pass your particular locale's safety and emissions requirements. The car sits in Texas at present and the seller says that the local DMV has pretty much left him alone. YMMV. Oh and by the way, I totally recognize that Costco microfiber towel he's using to block his license plate. I've got like a zillion of those things.
What's your take on this SBC'd 944 for $9,500? Does that price make the engine switch worth flipping the switch? Or, is that too big a price for just small block power?
You decide!

New Jersey Craigslist or go here if the ad disappears.
H/T to Nope-pt2 for the hookup!
Help me out with NPOCP. Hit me up at rob@jalopnik.com and send me a fixed-price tip. Remember to include your Kinja handle.