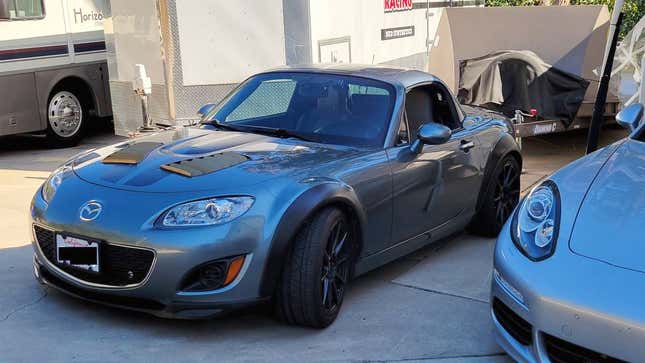 Mazda's Miata has always punched above its weight class, and today's Nice Price or No Dice Special Edition is no exception. Let's see if you all take exception to how hard this MX5's price hits.
This NYC Garage Takes Vanlife To The Next Level | Jalopnik Visits
Having been built so long ago, yesterday's 1986 Spartan II wasn't just a neo-classic, it was also just plain old. Add to that a long stint in storage and it came across as a car that isn't going anywhere without some updates. That all made the $26,000 asking price too much of a burden for the Spartan II to bear, sending it back in time with a massive 95 percent No Dice loss.
While wildly different in execution and style, it could be argued that yesterday's Spartan II and today's 2011 Mazda Miata Special Edition are both neo-classics. After all, each tries to replicate an older automotive zeitgeist. Many would counter, though, that the Miata has been far more successful in its task than has any roaring '20s ripoff.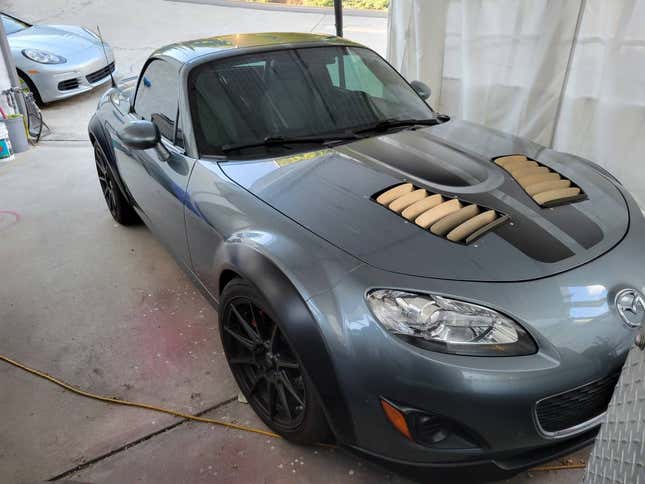 The Miata has been around for so long that it has engendered a number of special edition and anniversary models. Its popularity has also encouraged a substantial ecosystem in aftermarket parts and services.
Today's Miata embodies both of those factors. According to the ad, this retractable hardtop car is one of a handful of "Special Edition" models offered by Mazda in the U.S. market exclusively for the 2011 model year. The seller claims there were only 450 ever sold, however, Mazda's press from the time indicated a planned model run of 750.
What makes this edition special isn't all that much. Mazda started with a top-of-the-line Grand Touring model and then added some options (limited slip diff, Xenon headlamps, etc.) as standard. The only bespoke aspects of the car are the Dolphin Grey Mica paint and gray and black leather upholstery. Oh yeah, there are also bright metal rings around the air vents in the cabin.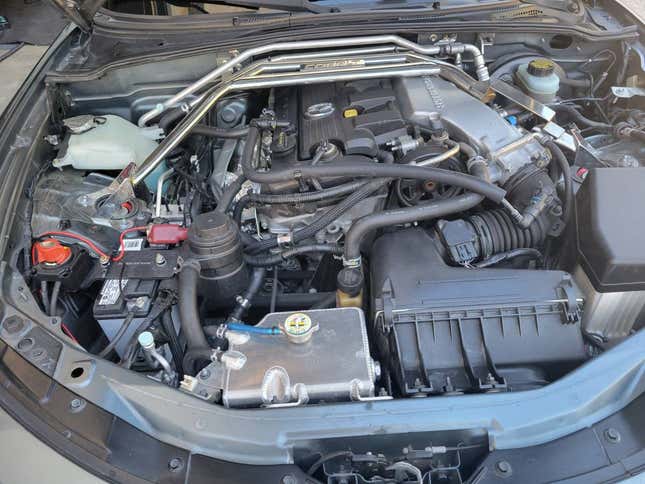 On top of being a Special Edition, this car has a number of intriguing upgrades, all claimed to have been professionally installed. The list is long so I won't belabor restating them all here.
Probably of most interest for us, though, is the Flying Miata-sourced supercharger. That's said to be CARB-approved, meaning it's emissions-compliant even in strict as a school marm California. The addition of the blower has pushed the power from a stock 148 horses to what's claimed to be a dyno'd 228.9. I'll bet that the last .9 is what really gives the car its edge.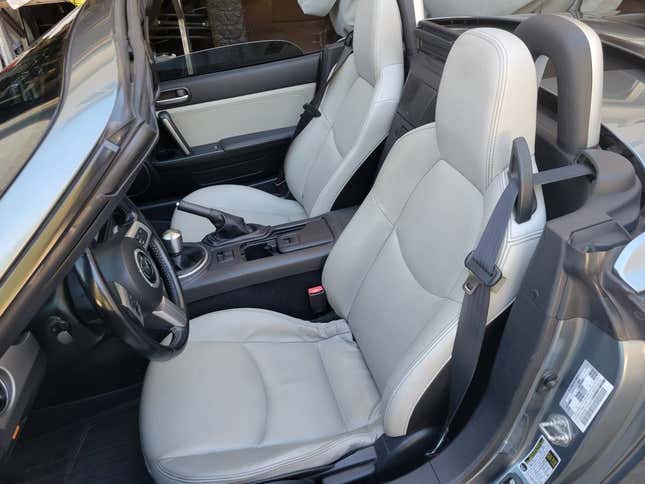 Everything else behind the hotter mill has been beefed up too, mainly through liberal spending in the Flying Miata catalog.
The result is a car that really overshadows its Special Edition origins. Yes, most identifiers are still there, save for the wheels, but this car's stance, wildly louvered hood, and stripe decals all conspire to give the car some added personality.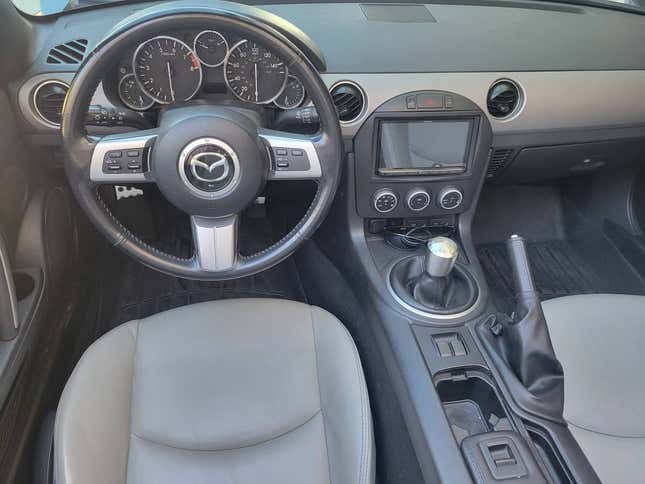 It all looks to be in solid shape too. The bodywork seems without flaw, and the interior is clean as a bean. A modern double-DIN head unit and SmartTOP mod help modernize the driving experience without making it too weird.
All that comes with a clean title and just 80,000 miles on the odometer. What could such a carefully curated package be worth?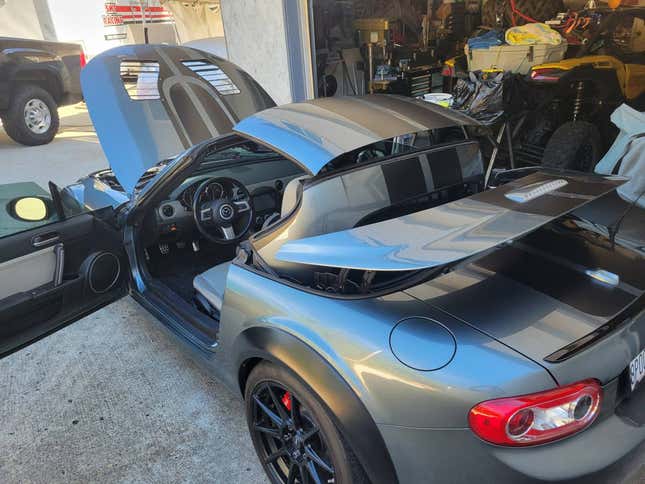 The ad asks $19,500 for the car, and one would have to wager that it would cost significantly more than that to replicate this build, even if you could find another Special Edition model as a base. But is it a deal?
What do you think, will this Flying Miata-imbued MX5 fly off the shelf at that $19,500 asking? Or, is that too much for a car with so much aftermarket in the mix?
You decide!
San Diego, California, Craigslist, or go here if the ad disappears.
H/T to Don R. for the hookup!
Help me out with NPOND. Hit me up at remslie@kinja.com and send me a fixed-price tip. Remember to include your Kinja handle.