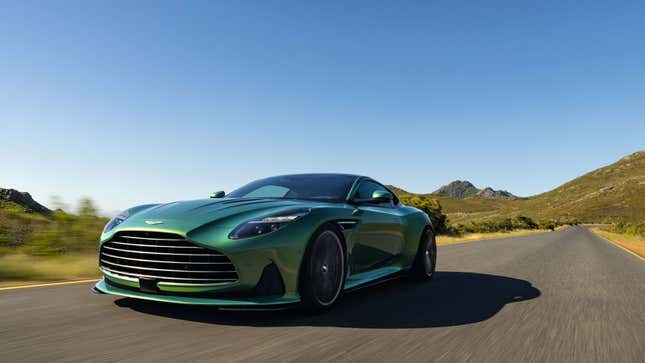 It seems like only yesterday that Aston Martin was killing off the gorgeous DB9 in favor of an all-new grand tourer that would reportedly usher in a new era. Now, a short seven years after the unveiling of the DB11, that car is racing toward retirement, in favor of the new DB12 "super tourer," which also ushers out the DB line's signature V12 motor.

Unveiled at an event in France last night by Aston Martin Formula 1 drivers Fernando Alonso and Lance Stroll, the DB12 features a new design, new interior and an updated V8 engine under the hood.
Starting with the outside — the DB12 takes the stylings of the DB11 and adds "measured aggression" and a "more muscular physique," according to Aston Martin. That translates to an updated front end with a much larger-looking grille. It also comes with a re-worked front splitter to improve aerodynamics, and new LED headlamps.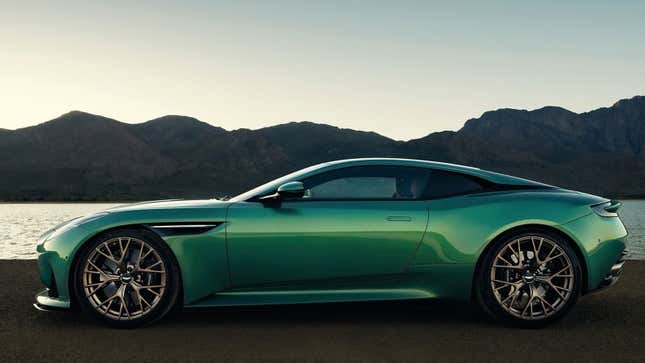 In profile, the car looks familiar and draws a lot of similarities to the current DBs and outgoing DB11. This is also where you'll spot the new 21-inch alloy wheels, as well as new, smaller wing mirrors, which have been designed to improve aerodynamics.
What do you think of the new car's stylings? To me, it seems a little bit like a combination of the DBS and DB11 with a much wider grille. It's not quite the rejuvenation we had between the DB9 and DB11, but I won't be mad when I see one on the highway.
Familiar looks aside, there are a lot of new parts on this car, which Aston Martin says should "elevate the level of driving excitement" in the DB12.
First, the DB line's signature V12 engine, which has been a staple of the range since the mid-90s, is gone. Instead, the DB12 will only be available with a four-liter, twin-turbo V8 that produces 670 hp. Incidentally, that's actually more powerful than the V12 that was fitted in the outgoing car.
Because of all that newfound power, the DB12 will hit 60 mph in just 3.5 seconds, and can continue onto a top speed of 202 mph. In contrast, the DB11 only managed to hit 60 mph in a paltry 3.7 seconds.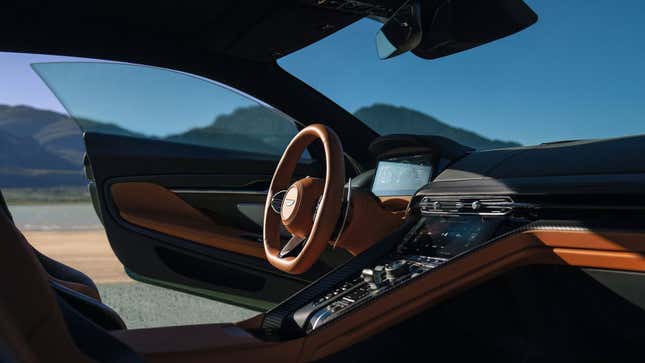 But Aston Martin isn't focusing on sheer speed in the DB12, though, having given the new car an updated suspension system that features new intelligent adaptive dampers and an electronic rear differential – a first for the DB line. The DB12 also comes with an eight-speed automatic transmission, which the company says has a "unique transmission shift calibration" that should help the car offer "punchier in-gear acceleration."
To bring all that performance to a halt, Aston Martin fitted the DB12 with cast-iron 16-inch front discs and 14-inch rear discs with grooved and drilled faces. The DB12 can also be ordered with a carbon ceramic brake option.
Inside are even more updates as the next-generation infotainment system, based around a 10.25-inch screen that has been paired with a Bowers & Wilkins stereo. Compatible with Apple CarPlay and Android Auto, the touchscreen system doesn't entirely replace the car's need for physical buttons, and there are plenty of tactile controls for setting the heating, seats and entertainment.
As you'd expect, the whole space is ensconced in leather, Alcantara and other fancy sounding fabrics.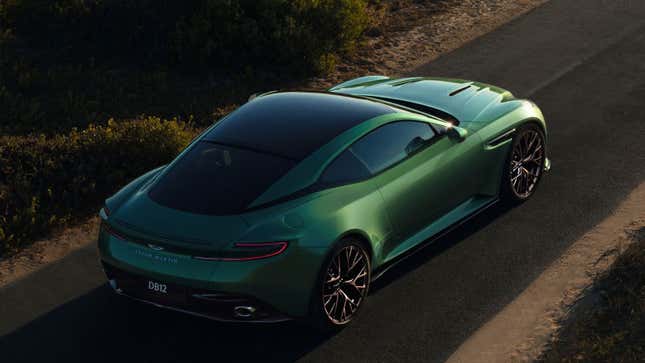 There is no word yet on official pricing for the DB12, but Car & Driver reports that Aston Martin said the coupe body style could start at $245,000. For anyone currently shopping for a DB11, you might notice that this marks a $37,000 increase over the outgoing V8 model.