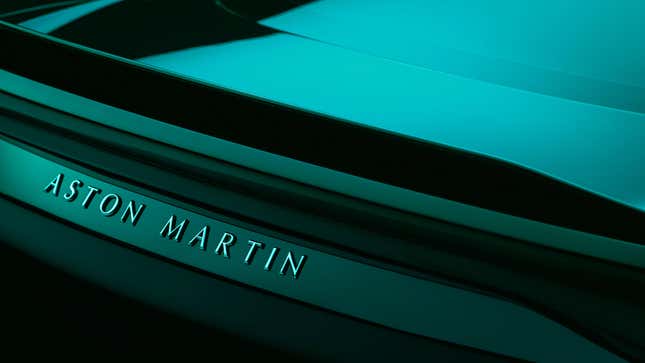 The Aston Martin DBS Superleggera first appeared back in 2018, which means it's getting a little old. It's still gorgeous, but it's time for Aston to move on. Before it does, though, it's time for one final sendoff for the gorgeous DBS, in the form of a limited-production special edition with even more V12 power and (presumably) a higher price tag.
Today, Aston Martin announced the DBS 770 Ultimate, a car the press release calls "[t]he ultimate finale to a bloodline" and "a final edition flagship to surpass them all." Those are some pretty strong statements, but despite only having limited information on the DBS 770 Ultimate, it sounds like they won't be completely unfounded.
As the name suggests, the 5.2-liter V12 has been tuned to make 770 PS. Converting that from European horsepower to American horsepower, that works out to about 759 hp. Which is a lot of power for a rear-wheel-drive coupe to make.
But it also sounds like the DBS 770 Ultimate will get more than just a power boost and a plaque on the dash. Aston Martin says the DBS has been re-engineered with a "sharper dynamic focus," so expect an overall improved driving experience to go along with the other typical final edition touches that cars usually get, such as exclusive paint colors and minor interior changes.
The DBS 770 Ultimate will be fully revealed in "early 2023," so we shouldn't have to wait long to find out more about all the changes and updates Aston has made to the regular DBS. But when it officially goes on sale, there won't be many to go around, as only 499 will be built.
But while we wait, Aston Martin also released a teaser video that's truly bizarre. To be fair, it's still rather normal when compared to the recent Lamborghini Huracan Sterrato commercial, a piece so unintentionally hilarious, it's hard to imagine someone didn't lose their job over it. But Aston's video announcing the DBS 770 Ultimate feels like a teaser for the latest Amazon prestige fantasy show that will ultimately get middling reviews and piss off fans of the book.
Maybe that's just what gets rich people excited about cars. I certainly wouldn't know. But until the DBS flashes on screen about halfway through the video, no normal person would have any idea that this is a car commercial. Very weird. But hey, at least the DBS 770 Ultimate should be pretty cool.