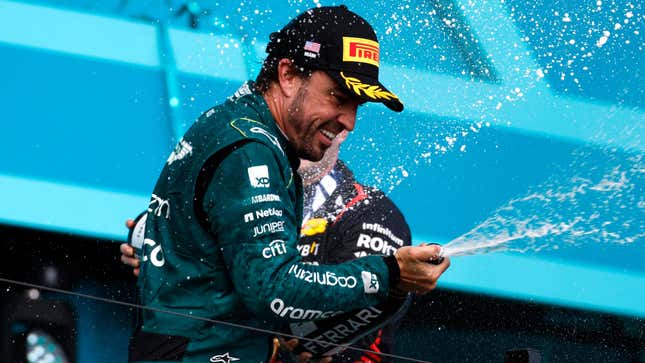 Aston Martin has announced its intention to become a Honda works team in Formula 1 for the 2026 season, and we've already talked about the big stuff. We know how important it'll be to compete as a works team in 2026. We know Aston Martin is prepared to develop its own racing machine. We even know about Honda's return to F1. That means there's just one last loose end: Fernando Alonso.
To say that tensions between Alonso and Honda run deep would probably be an understatement. Between 2015 and 2017, Alonso was part of the McLaren team that sourced its engines from Honda. The partnership was nowhere near as successful as was hoped, and Alonso raged against Honda's "GP2 engines" — by which he meant that driving Honda's power unit was like driving a feeder series vehicle. As a result, Alonso and Honda didn't exactly part on the best of terms.
But Alonso is in fine form in 2023. As a part of the Aston Martin program, Alonso has finished on the podium in all but one race this year, securing him a comfortable third place overall in the Championship as we head into the Monaco Grand Prix. He's seemed to be a revitalized competitor, one willing to offer mid-race advice and encouragement to his young teammate Lance Stroll — and definitely not the same guy who had seemed so defeated back in 2016.
It may seem strange to be talking about Alonso sticking around in the sport until 2026, but the 41-year-old has already voiced his intentions to continue competing for "a few more years." He has his sights set on another Championship. Aston Martin will remain a Mercedes customer team for two and a half more years, but it does sound like Alonso would be prepared to hang out until 2026 if he was confident that Aston Martin would keep him around.
Thankfully for Alonso, it sounds like both Aston and Honda are willing to see how things go.
"Alonso is an outstanding driver, and at Honda, we respect him," Koji Watanabe, President of Honda Racing Corporation (HRC) said in a press conference preview of the news. "But it's up to the team to select the drivers."
Martin Whitmarsh, Group CEO of the Aston Martin Performance Technologies, continued the thread of conversation.
"The [drama] stems from something Fernando said in the heat of battle, which is regrettable," he noted. "[Alonso] is a truly great driver, and I think he's developed his thinking about driving and about being a team member since then.
"If he's driving with the same energy, commitment, skill, and speed in 2026 [as he is in 2023], we'll be delighted to have him on the team."
Fernando Alonso / Aston Martin championship in 2026, anyone?