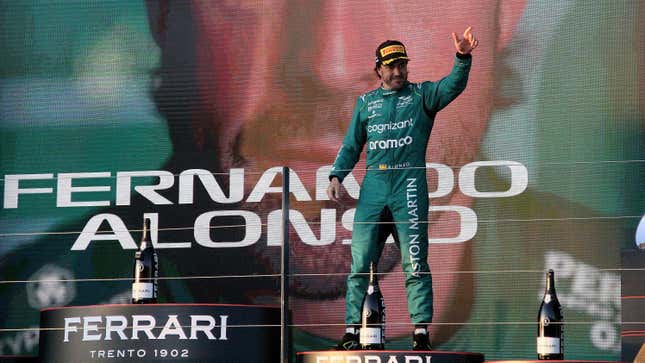 Juan Manuel Fangio, who, if you're a certain vintage of Formula 1 fan is definitely the greatest F1 driver of all time, or, if you're another vintage of F1 fan, is the second-greatest F1 driver of all time, or, if you're an even more recent vintage is the third-greatest F1 driver of all time, is also the oldest man to ever win a Formula 1 championship, in 1957, when Fangio was 46 years, 41 days young. Fernando Alonso, who last won an F1 title in 2006 with Renault, is currently sitting third in the driver standings, having gotten off to a fast start this season with Aston Martin. Alonso will be 42 in July, and still almost as strong a driver as ever, with a good car this year. Surely, Alonso doesn't have Fangio in his sights? Or maybe he does.
Grand Prix is The Best Racing Film That No One Talks About
In case you missed it:
He's sort of talking like it, at least, as in a recent podcast interview, where he sorta floated the possibility of going till 46, and maybe even winning another title. Via Formula1.com:

During an interview with team sponsor Bang & Olufsen about his lengthy F1 career, Alonso was asked about what the future might hold and how much longer he is likely to compete in the top echelon beyond his current 'multi-year' deal.

"I would love to know the answer as well," Alonso began. "I think when I started in Formula 1, my idea was to be [here] for seven or eight years. Then I won the two championships and I thought I will race maybe one or two more years, then I will stop.

"Now I find myself with the longest career ever in Formula 1. I'm still fresh. I'm still motivated. I'm still enjoying every single day. I wake up in the morning and I'm happy of what I'm doing. There is a few more years, I think, for me. Hopefully, you know, with a title contender in the future."

[...]

Pushed on whether he still believes in his chances of becoming a three-time champion, Alonso added: "Always I believe it's possible, that's why I keep racing.

"Obviously, you know the challenge is big, you know that you need to overcome some difficulties, some top teams that are now on top of the sport, but I race every day and I train every day thinking that the third title is possible."
And so while the top three greatest F1 drivers might be disputed forever — for my money it is Lewis Hamilton, Fangio, and Ayrton Senna, in that order — Alonso is almost for sure a shoo-in for the top ten, if also because in a different timeline he might have won so much more. If Alonso kicks on and pulls a third title out of his hat in his 40s, we'll have to be talking about him in greater terms, because, for better or worse, he's trying to do something few modern drivers have the opportunity to accomplish, much less the nerve.