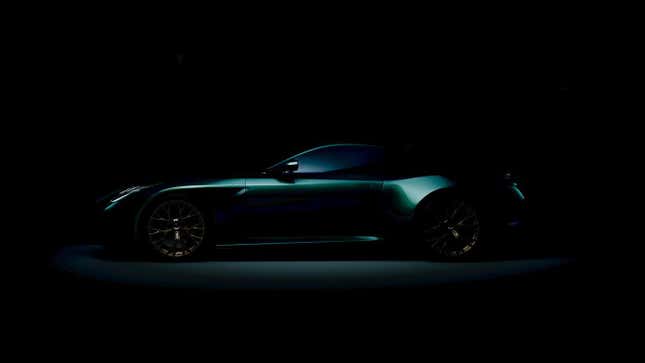 Aston Martin is teasing the full release of a new DB, which will be the successor to the DB11. Aston is set to reveal the new model on May 24, but the British automaker has released a few photographs to drum up excitement for what could turn out to be the Aston Martin DB12, as Car and Driver reports.

The 2023 Ford F-150 Raptor R Is Here
The photos show off the side profile of the new DB and its front end. We can clearly see the silhouette of an Aston clad in the brand's characteristic green finish and bronze wheels. Good combo. But we also partially see the infotainment layout of the new DB, which will feature a major overhaul of the cabin complete with a screen that's integrated into the car's center stack. And its glorious.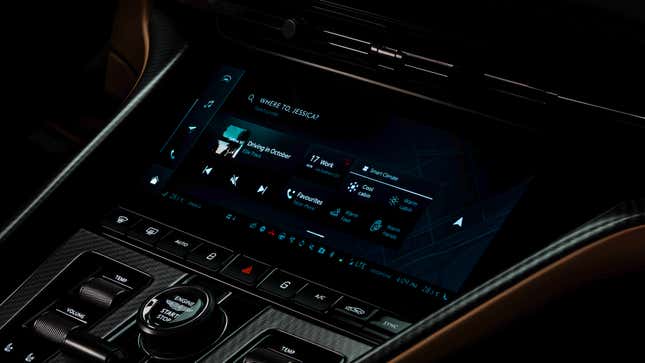 Tucked into rows of physical buttons and rotary controllers, the display seems to be built into the center console, sitting below the HVAC vents. The buttons are excellent to begin with, because their placement can be learned and can eventually become muscle memory. But that tucked-in display is rad!
Of course, the display could be just one of multiple screens in the new DB, and there could be yet another at the top of the dashboard. I'm hoping that Aston Martin will skip the multi-display setup and, instead, make use of the driver's screen behind the steering wheel, similarly to the Ferrari Purosangue, as the Drive reports.

The other major changes on the inside include a redesign of the shifter buttons, which have been tossed out in favor of a selector switch that sits below the prominent engine start button. Overall, it looks like Aston Martin is leaning hard into physical controls, which is great.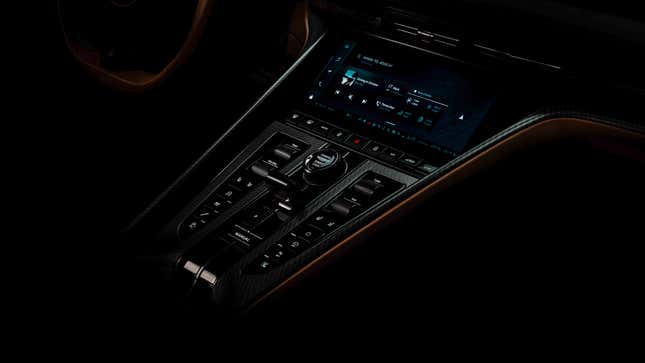 But that ethos of focus might extend to the infotainment, if it is, indeed, the singular screen in the upcoming GT. When I'm driving, I want to look at the road — not at my phone nor any other screen. That's why I opted for a head unit with a tiny dot-matrix display in my old daily driver, a BMW 318ti.
Modern smartphones have basically made infotainment displays redundant, but new cars have imported our iPhone and Android home screens into the cabin. I have little (zero) desire to look at my phone when I'm driving my car. Even on a commute or while out on errands — where the drive tends to be brief — my car becomes a bubble, a refuge, a makeshift faraday cage.
Unless I'm on a road trip in a new city where I have to look at turn-by-turn directions on a screen, I don't want to look at the jittery black hole that is modern infotainment. It just sucks up attention, and while I can focus on the road to drive safely, I just don't want any distractions. Directional prompts are audible through most major navigation apps, anyway. And some cars (Acuras, for one) have what I'll call a "night drive" button with a crescent moon icon, which turns off the infotainment display altogether. Saabs famously had something similar.
If I don't want distractions in my crappy daily or a relatively pedestrian sedan from Acura, or Honda, I can only imagine how much more present and focused I would want to feel in the new Aston Martin DB, a grand tourer that will easily cost over $200,000 like the DB11 before it. Buttons are good, but screens that more or less disappear are even better.