The might of America's agrarian industry, represented in combine harvesters. Let's crash them to death.
This is the Nezperce Idaho Lions Club Combine Demolition Derby back in 2007, which could not sound more white bread if 'potato salad potluck extravaganza' was in the title.
There's probably some symbolism here about industry in a changing rural America, but these kind of philosophical discussions are boring. It's much better to just crash some giant pieces of farm equipment into each other for fun.
As we've said before, combine demolition derbies rule.
G/O Media may get a commission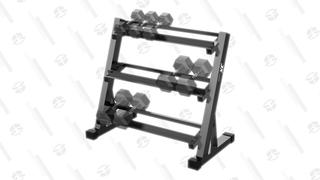 20% Off
JX Fitness Dumbbell Rack
Gains but tidy
Has a three-tier design to help store more weights more conveniently, can safely support up to 1000lbs of weight, which should be enough for most people, has a triangle base for stability, and also features anti-scratch feet which is great if you've built your own studio or workout in your garage.
(Hat tip to Leicester and Earl Junior!)