Lamborghini Gallardo, we've known thee for nigh on a decade now. You've thrilled us. You've scared us. You've made us think dirty thoughts. But now thy time is done, taken down by a Huracan. We shall miss thee.
The Gallardo's replacement is the breathtakingly beautiful Huracan, a car that was almost definitely chiseled out of a solid block of Adonis-like perfection. But it's also being called the most technologically advanced Lambo ever. Yes, that'll make the 610 horsepower Huracan a step up in performance, but it'll also take it another step away from the real world.
G/O Media may get a commission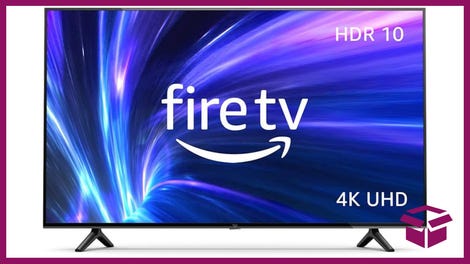 42% Off
Amazon Fire TV 50" 4K Smart TV
While technology took over Ferrari's lineup in the last decade, Lamborghini kept the Gallardo delightfully uncomplicated. What's even more amazing is that as they kept making the Gallardo, they decided the already simple car wasn't simple enough. It came out with all-wheel drive, but a rear wheel drive version came to the fore to inject more excitement/uncontrollable danger. Former chief test driver and legend Valentino Balboni loves it.
The Gallardo is the only Italian supercar you can still purchase with a proper gated manual gearbox, and with its death, the Audi R8 is basically the only car you can still get with that classic metal on metal clank. It's an option that is rarely ticked, but those that choose it are heartily rewarded. In a world where Ferrari won't even offer a shift it yourself gearbox in their mid-engined supercars, Lamborghini still caters to the old school traditionalist.
We were lucky enough to spend time with a Gallardo that had a manual gearbox earlier this year, and it's akin to a religious experience. The noises and the sensations transform the Gallardo from a hugely fast and fun car with a terribly flawed gearbox to one of the most evocative cars you can drive.
But the Huracan will be a dual-clutch only, which means that the Gallardo is the final Lamborghini to roll out of Sant'Agata with a row-yourself gearbox.
The Gallardo has been a relative tech free zone in today's hyper-processor obsessed supercar performance domain. The computer at the wheel is you. I love the McLaren 12C and Ferrari 458, but the electronics in those cars are working harder than a cabbie in New Dehli traffic to keep you on the straight and narrow.
Gallardos lack hydraulic suspension and 52-stage traction control. They don't have buttons all over the wheel or separate drive mode settings for suspension and traction control. Lamborghini doesn't force you to take a college level trig class to understand the TC. Turn it on, turn it off.
Job done.
Yes, the Gallardo is dated and it is time to move on to the next big thing. It was also inevitable that the newer car would leap forward in the tech game. But is that the right move? In this realm of sports cars, the Gallardo was never the serious option. McLaren and Ferrari were the ones building serious cars for serious people who wanted to talk about variable traction control and slip angles. The Lamborghini, even in Superleggera or Super Trofeo Stradale trim, was always about being ridiculous and fun. Fuck laptimes, the Gallardo was around for a laugh.
The Gallardo was never as fast as its rivals, but it was never meant to be. It's a case where being worse actually made it better. I have no doubt that Lamborghini worked on refining the Huracan, which is why it has a double clutch trans and magnetic ride. I hope that doesn't make the Huracan lose the Gallardo's joie de vivre, its life force, its coo coo ca choo.
What we don't need is an Audi R8 in an exotic frock. What we don't need is a car that takes itself too seriously. What we do need is a car only suitable for mental patients. Don't let us down Lambo.