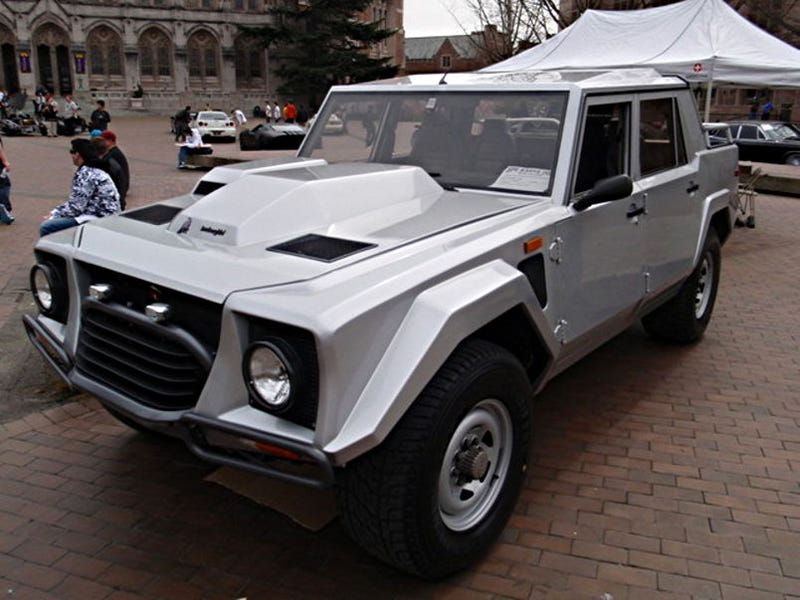 Nice Price Or Crack Pipe
Is this used car a good deal? You decide!
Long before the Estoque, Lamborghini built another front-engined 4-door, and for today's Nice Price or Crack Pipe we're going to find out what's Italian for getting a Hummer.
It's Italian Week here at the home of car-ad contemplation, and here's a Lamborghini that'd be more at home in the desert than on the autostrada. In the late 1970s Lamborghini entered into an agreement with Mobility Technology International to build an off-road vehicle in hopes of selling a butt-load of them to the U.S. Military. The Cheetah had a mid-mounted Chrysler V8 engine and 3-speed automatic transmission that fed power to all four wheels through torque-biasing inter-axle differentials. The U.S. Military evaluated it, but all hope of the Cheetah winning the contract was dashed when it was destroyed during the testing. That contract eventually went to AM General's now ubiquitous Humvee, and well, we know how that turned out. Apparently the old maxim is correct- cheetahs never prosper.
Following the failure of the Cheetah program, Lamborghini also lost the contract with BMW to develop the M1. With the Countach and Jalpa models years past their prime, and limited financial resources, Lamborghini leveraged the learning from the Cheetah and developed the Countach-powered LM002 (the LM001 was AMC-powered!) off-roader. The cabin was luxuriously appointed with copious quantities of hand-stitched leather and wood, and sporting a full complement of gauges and levers across the uber-wide dash. Out back, and pre-dating the Chevy Avalanche by a decade, was a short open bed with four side-facing tumble seats just in front of the massive spare tire mounted on the bed gate. Those tires were 325/65 VR 17 Pirelli Scorpions- the only tires, at the time, that could match the LM002's extraordinary speed and rough terrain capabilities. Providing the crank for those tires was the 60° 5167cc DOHC V12 from the Countach, modified to accept the transmission in the rear. Topped by 6 2V Weber carbs and high-filtration air cleaners, the engine put out a generous 444bhp, and 368 ft-lbs of torque, both peaking at 6800rpm. This was enough to move the LM002 swiftly despite its 5,720lb weight. If you were a Saudi Sheik, you could even get one with the 7.2 litre marine engine to further cut your harem-to-harem time.
This Washington state car has a little over 14K on the clock, and is a rather disappointing silver over gray. Other than that there's not much that could disappoint- from those massive hood bulges to the rear deck which would make for a perfect platform for Junior to make his newspaper deliveries.
So what will it take to put you in this fine car today? Is that $114,888 a Nice Price for one of 301 Lamborghinis that will drive an H2 owner into a fetal position of compensation inadequacy? Or is this still a Crack Pipe full of wrong car, wrong decade, and wrong wallet?
You decide!
eBay, or go here if the ad diappears.
Help me out with NPOCP. Click here to send a me a tip