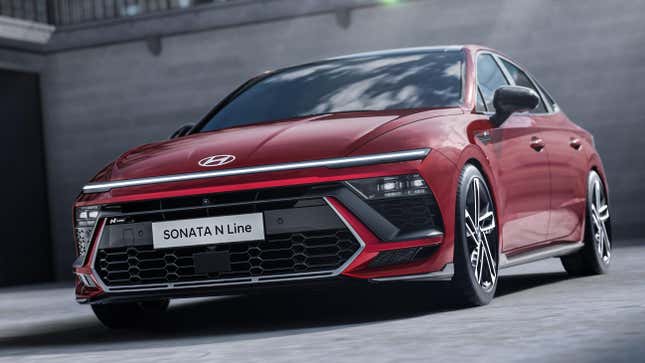 When Hyundai redesigned the Sonata for the 2020 model year, its styling was a wild departure from the inoffensive-but-easily-forgotten sedan it replaced. And man, did it really stand out on the road. Depending on who you asked, though, it didn't necessarily stand out in a good way. The front end had a somewhat catfish-like quality to it that more than a few people found off-putting. Four model years later, Hyundai has officially revealed a refreshed Sonata, and the catfish front end has finally been vanquished once and for all.
Behold the Splendor of the Hyundai Grandeur
In case you missed it:
This time around, the 2024 Hyundai Sonata borrows the front light bar that we recently saw on the redesigned Kona crossover. The headlights themselves are mounted low, and the rest of the front end is much sharper and more angular than before. You could argue it's still a little busy, but overall, we think it looks fantastic. We also get the feeling the new look will alienate fewer potential buyers than the pre-refreshed Sonata did.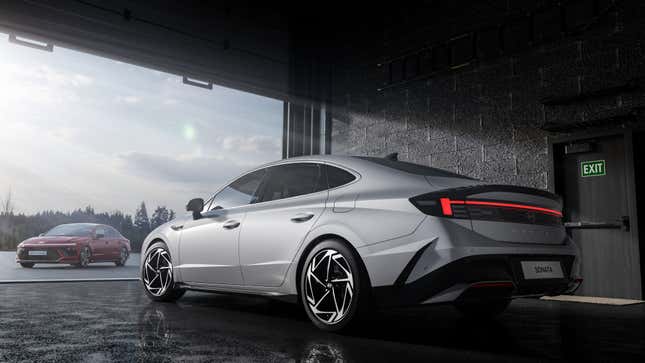 Around the back, the taillights also get a horizontal light bar integrated into them that echoes the one up front. But that's also where it becomes much clearer that this is a refresh, not a full redesign. Not that we're complaining. Once you got past its face, the rest of the 2020 Sonata's sheet metal was already very nicely styled. Also, the new wheels on the 2024 N-Line look wild.
Inside, the 2024 Hyundai Sonata's cabin gets a few noticeable updates, as well. The most noticeable change is the addition of a wide, curved horizontal display that combines a 12.3-inch driver-information screen with a second 12.3-inch infotainment screen. But unlike some other cars on the market today, Hyundai hasn't completely done away with physical controls in the new Sonata. It has, however, moved the gear shifter to the steering column, where you'll also notice a new steering wheel.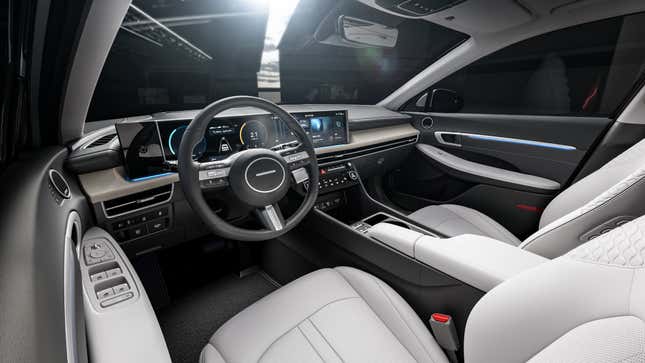 Unfortunately, we can't share any information on pricing, powertrains, or the new Sonata's on-sale date just yet. Hopefully, that information will be announced when the 2024 Sonata is officially revealed at the Seoul Mobility Show, which starts on March 30. Until then, you can still look at the pretty pictures.