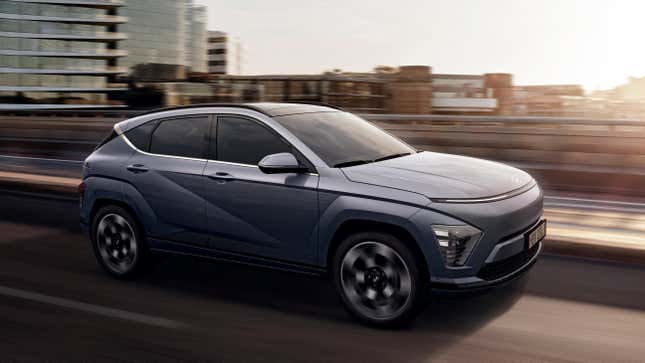 Late last year, Hyundai teased the redesigned Kona by releasing a couple of images and a few details. We knew what it would look like and that it was going to be significantly larger than the outgoing Kona, but beyond that, we didn't have much information on its next iteration. Today, we have a lot more information about the 2024 Hyundai Kona, including the electric version's range.
2024 Nissan Z NISMO | Jalopnik Reviews
According to Hyundai, the 2024 Kona EV will come with two battery options. The smaller one, which seems unlikely to make it to the U.S., has a 48.4 kWh battery, and in that configuration, the Kona EV makes about 154 hp and 188 lb-ft of torque. The long-range version, on the other hand, has a 65.4 kWh battery, and while torque stays the same, power increases to 214 hp. It's also estimated to have a 490 km range or about 304 miles, but that's on the European test cycle. In EPA testing, the range will probably be closer to 260 miles. The Kona EV also comes with "vehicle-to-load" charging abilities, allowing it to operate as a power source.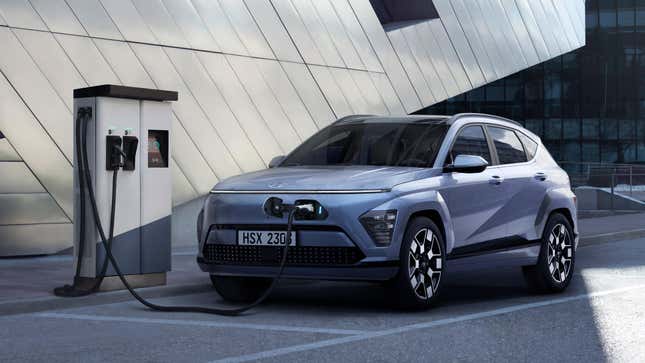 If you like the idea of the Kona but aren't ready to go fully electric, there will also be a regular gas-powered version, as well as a hybrid. However, the press release didn't give much information on either powertrain, as it appears the EV is the Korean automaker's main focus here.
Still, all Kona models will get the crossover's new look with a horizontal light bar across the front and a new, more spacious interior with a more generous cargo area. Based on the photos, the cabin looks like it uses nicer materials than before and should be a more enjoyable place to sit. And despite dual 12.3-inch screens that serve as the driver display and infotainment system, Hyundai hasn't completely eliminated buttons from the center console. You actually still get physical controls, which we appreciate.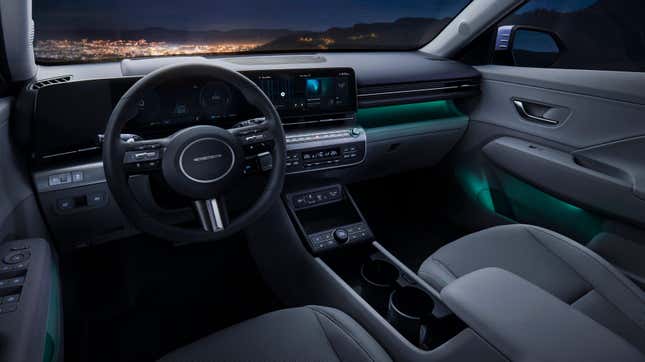 Overall, the new Kona EV is almost seven inches longer than the outgoing version, has a 2.4-inch longer wheelbase, is almost an inch wider and is 0.8 inches taller. Combined with thinner seats, that should make the new Kona more comfortable for both the driver and the passenger. Plus, the added length means you can fit more stuff in the back.
Sadly, a number of features that the new Kona offers won't be available in the U.S. That includes optional extra-comfy seats that Hyundai says are "optimized for 'weightless' body pressure distribution to help alleviate fatigue after driving," as well as a head-up display. We will get one-pedal driving, over-the-air updates, a surround-view camera system, and Hyundai's latest suite of advanced driver assistance tech.
While it's disappointing that we won't get some of the new Kona's best features, we do still appreciate that interest in smaller vehicles in other markets appears to be strong enough that the U.S. will continue to benefit in some ways, as well. Hyundai recently confirmed to Autocar that it plans to introduce a new generation of the i10, i20 and i30, which means we could also see a new Hyundai Accent and Elantra despite Americans' love of crossovers.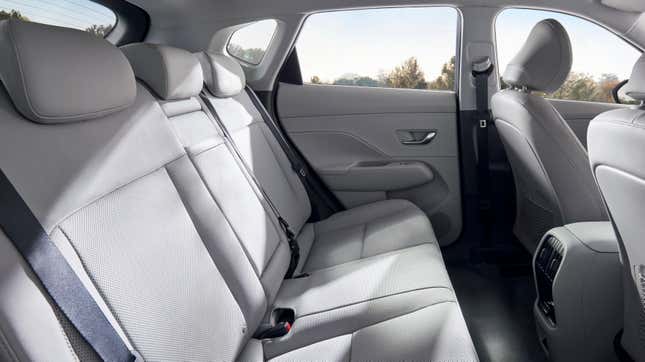 Hyundai hasn't said when the 2024 Kona will go on sale in the U.S., so expect that announcement later this year, possibly at the same time pricing is also announced.