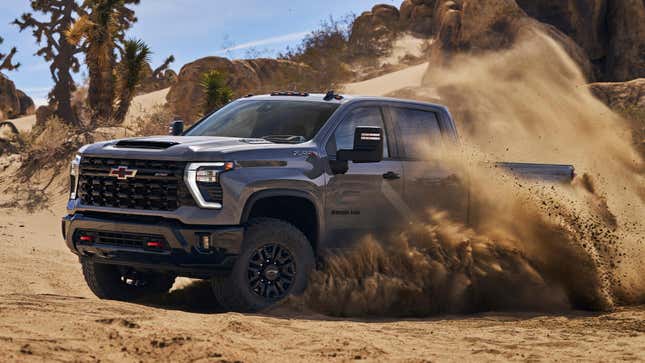 First, came the midsize Chevrolet Colorado ZR2. Then the Colorado ZR2 Bison. After that, Chevrolet added the full-size Silverado ZR2. And the Silverado ZR2 Bison. So it should come as no surprise that Chevrolet just announced the 2024 Silverado HD ZR2 and Silverado HD ZR2 Bison. The demand for off-road trucks is there, so why not round out the set?
This NYC Garage Takes Vanlife To The Next Level | Jalopnik Visits
Design-wise, there aren't many surprises here, at least if you're already familiar with Chevy's other ZR2s. You've got a ZR2 grille, ZR2 badges, a hollow "flow-tie" badge, a 1.5-inch suspension lift, wheel wells with integrated mud guards and 18-inch aluminum wheels wrapped in 35-inch Goodyear Wrangler Territory MT tires. You also get an upgraded suspension with Multimatic's Dynamic Suspensions Spool Valve dampers that should make the Silverado HD ZR2 both a serious off-roader and surprisingly enjoyable to drive on the street. And there's also more underbody protection and a rear e-locker.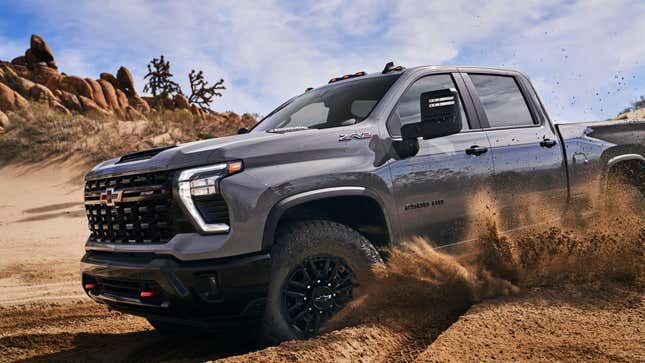 If you're looking for a locking front differential, though, you won't find one. In a preview event, Chevrolet said it wasn't worth the extra cost to add a front locker, and explained that stability control can achieve most of what a locking diff could do. Engine options are either a 6.6-liter gasoline V8 making 401 hp and 464 lb-ft of torque, or a 6.6-liter diesel V8 good for 470 hp and 975 lb-ft of torque. Chevrolet expects the diesel option to be the most popular, likely accounting for more than 70 percent of sales.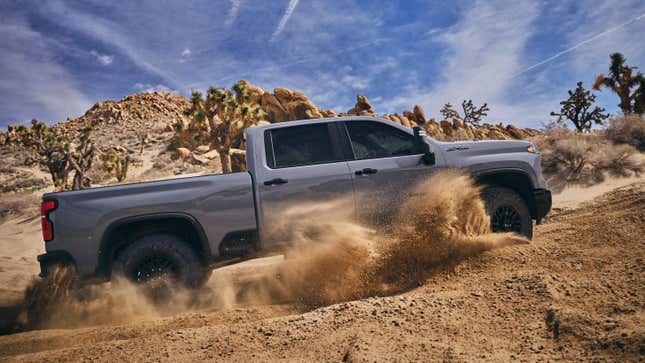 Choosing the diesel boosts the tow rating from 16,000 lbs to 18,500, but your max payload will drop from 3,397 lbs to 3,193. The oil-burner also comes with a weight penalty: The gas-powered Silverado HD ZR2 is no lightweight, clocking in at 7,409 lbs, but the curb weight on the diesel is a massive 8,113 lbs. And with 11.6 inches of ground clearance, the Silverado HD ZR2 is 82.6 inches tall, so watch out in garages.
Inside, the cabin is essentially the same as any other 2024 Silverado HD. And while options and packages have yet to be announced, Chevrolet said to expect them to be similar to what's offered in the light-duty Silverado ZR2.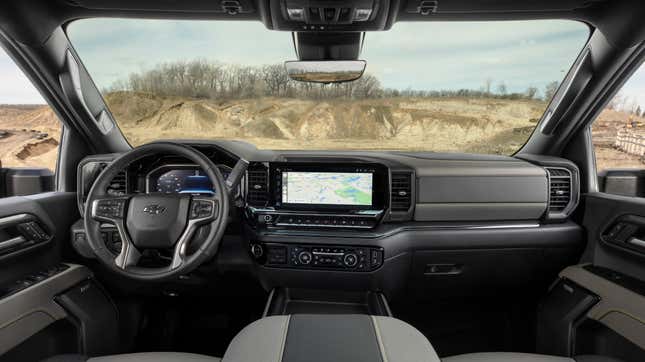 If the regular Silverado HD ZR2 isn't capable enough for you, you can upgrade to the Silverado HD ZR2 Bison. Adding the Bison package gives you 18-inch gloss black AEV wheels, front and rear steel bumpers with integrated recovery points, tougher skid plates and some AEV/Bison badging. It also rides slightly higher, offering 11.8 inches of ground clearance.
Production of both the Silverado HD ZR2 and ZR2 Bison is expected to begin later this summer. And while pricing has yet to be announced, Chevrolet said it will be "aspirational but attainable," whatever that means. Maybe $80,000?