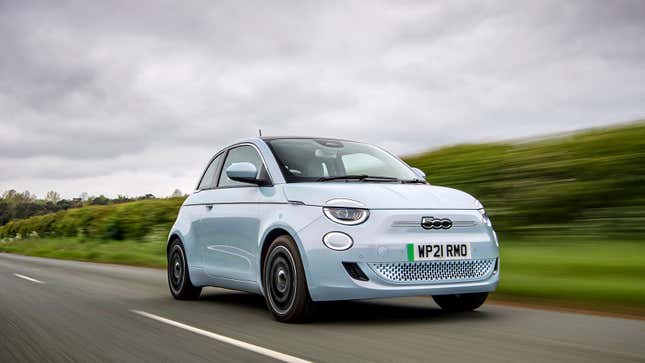 Here at Jalopnik, we like to moan about all the adorable little electric cars that other countries get and we don't. Just look at the awesome Honda E, the rad Peugeot e208 and the VW ID.3. And sometimes, when the automaker won't bring the car to you, you have to go to the car. So I'm flying to the UK to test out a Fiat 500.

The 2023 Ford F-150 Raptor R Is Here
In case you missed it:
Sure, the Fiat 500 was available here for a couple of years, so it might look pretty familiar to many of you. But, this is the all-new, all-electric Fiat 500 that the Italian company sells overseas and will start shipping here in the coming years.
This means it comes with a 118 hp electric motor and a 42 kWh battery pack that will give this cutesy little city car an impressive range of up to 200 miles on a single charge. The EV also comes with a top speed of 93 mph and a zero to 62 mph time of a cool nine seconds, proving that EVs should be about more than eye-watering acceleration.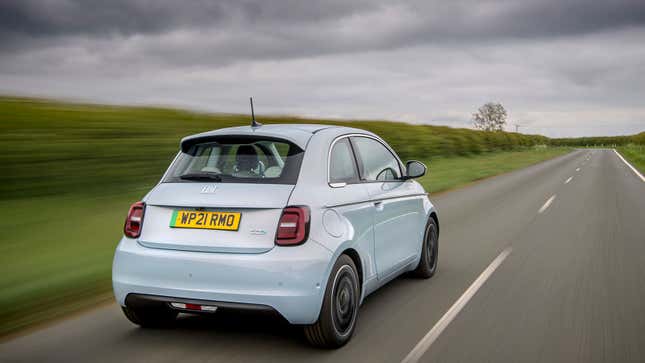 Away from the spec sheet, the 500 has space for four and a little trunk out back. The one I'm testing also comes with niceties like fast charging up to 85 kW, wireless phone charging and connectivity, and driver assist features like lane keeping. The cost of all this: £32,265 as tested, which equates to about $40,576 at today's exchange rate.
So, what do you want to know about the new Fiat 500 EV? I'm going to be testing it on city streets, country lanes and even a motorway highway or two, so head to the comments and let me know any questions you might have.
I'm excited to test it out, as it'll be my first fully electric car after a couple of plug-in hybrids, so I'm looking forward to seeing how my journeys up and down the UK have to change to accommodate that battery power. Also, I'll be interested to find out what the charging infrastructure is like back home and whether it'll be easy to track down a working plug every couple of hundred miles. Wish me luck.