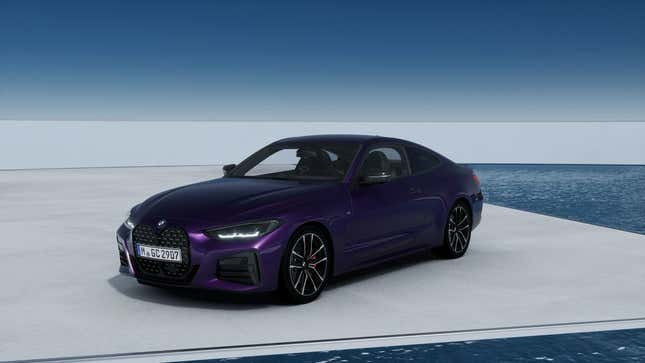 Car colors, right now, are in a bad place. Too many beautiful vehicles are stuck wearing drab white, boring black, or — god forbid — Nardo Gray. Folks, we can do better. In fact, we deserve better. We deserve bright, eye-catching colors, hues that dazzle the mind and shout from the rooftops that this is no rented vehicle. We deserve BMW's new Individual Visualizer, and its over 150 colors.
What's the Best Paint Color For a Sports Car?
In case you missed it:
BMWs are often seen in the least offensive of shades, but the company seems interested in bringing a bit more life to its lineup. The company has offered the Individual paint process since 1999, but this new configurator is meant to shed a bit more light on the options, giving people a taste of the myriad colors they can paint their Bimmer with.
Individual, however, is no simple paint-and-upcharge combo. Every car purchased through the program is hand-painted, either in BMW's Landshut plant or — in the case of U.S.-built crossovers — here in the States.
But with so many colors to pick from, which do you choose? True Jalops might go for any of BMW's seven brown tones, but I'm more interested in the company's 11 purples. My pick, P28 Twilight Purple Pearl Metallic, is the closest to Porsche's Viola Purple that I can get, and thus the closest BMW will ever be to perfection.
Head over to the configurator and pick out your favorite colors, then show them off in the comments. If you can beat Twilight Purple, I'll commend you, but I'm not convinced it can be done.