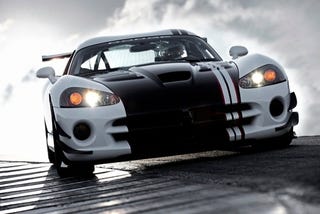 Chrysler may not have much for the Detroit Auto Show, but it does have the non-street-legal 2010 Dodge Viper SRT10 ACR-X and that's a something, proving somewhere (probably in the basement), someone at Chrysler still has a pulse.
We brought you news of the ACR-X in December, but somehow, Chrysler managed to scrape together enough cash (we're guessing they borrowed it from the Mikhail Gorbachev) to take some nice photos of the 640 HP, roll cage-equipped "value" race-prepped Viper. Basically, this car is a 2010 Dodge Viper SRT10 ACR, but with an 'X', an extra 40 HP courtesy of new headers and a low-restriction exhaust system, track-tuned suspension with fuel cell, race seat and other competition parts. It's apparently $30,000 cheaper than a Viper Competition Coupe. It's not street legal due to a lack of airbags and a non-restricted exhaust.

This is the last year of the Viper, so expect plenty more special editions as the company struggles to sell the last few 8.4-liter supercars. We expect to see the ACR-X at the Detroit Auto Show, likely tucked away in a corner in an effort at reducing how bad it makes the rest of the Chrysler lineup look.