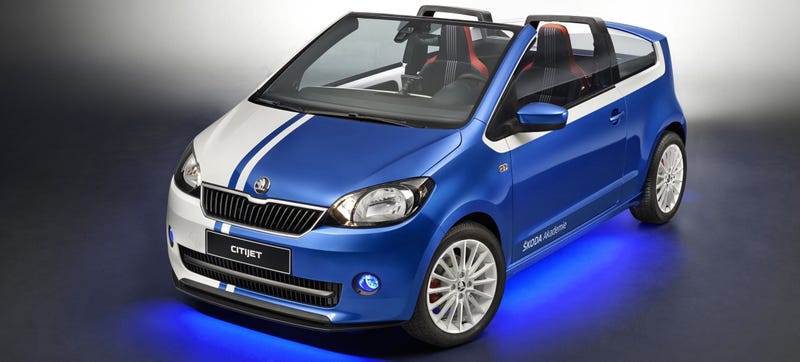 The Volkswagen XL1 is a sleek, futuristic-looking design that happens to boast a really efficient diesel-electric powertrain. It's awesome, but it's super expensive. That's why VW has decided to put the XL1's setup in a cheaper car, the very cool Up!, in addition to the gas and electric-onlyversions of the funky…
Of the six Volkswagen up! concepts that were trotted out back at the 2011 Frankfurt Auto Show, the one that least looked likely for anything other than sitting on an auto show floor was this roofless, doorless homage to the Meyers Manx Buggy.
Showing a high-mileage prototype in oil country? That takes some brass ones, Volkswagen. The company went to Qatar to reveal the XL1. VW says the diesel hybrid can travel more than 260 miles on a gallon of UAE tea.
According to AutoExpress, Audi is reportedly looking to fill the city car hole in their lineup with a version of the . The UK mag's even mocked up what they think an of the sub-sub compact would look like in a color that appears to be... yes, lime green. The Audi would get the same engine lineup expected to fit under…
According to Audi board member Peter Schwarzenbauer, speaking at last week's
Paris Motor Show
, the Audi group is developing an all-electric car based on the pending compact. His statement bolsters Audi's claim at the beginning of the year of plans for an electric within five to ten years. Whatever this electric Audi…
We're here live at the official reveal for the Volkswagen Up! concept car which we've been told is being sold by VW as "like a new Beetle" with it's projected 67 MPG or higher fuel economy rating. Sorry for the low quality of these first shots, we'll move in for the kill in a few moments — keep checking back here…
Volkswagen prepares to stand "Up!" here at the Frankfurt Auto Show with a new concept car designed to compete with the Smart ForTwo. As we were the first to tell you earlier, it's called the "Up!" and VW's planning on bringing the rear-engined, high-design subcompact to market in the next two years and we've heard…


Last night the above commercial called "Das Auto" was shown here on German TV before an expected announcement today, one day before the Frankfurt Auto Show, of a new Smart-fighting concept car called the "Up!" Yes, that's an exclamation point in the name of the concept car, and no, we've no idea why it's there.…