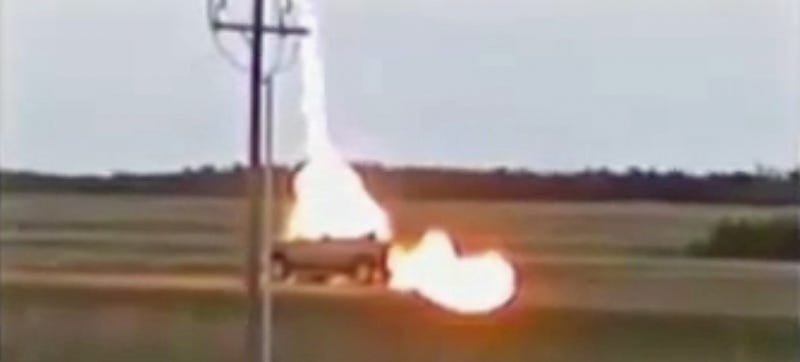 Al and Betty Perry were driving their late-model Chevrolet Silverado down Highway 14 in Alberta when a lightning strike turned their truck into a f*king rolling fireball. Airbags deployed, cabin filled with smoke, and both occupants thought they were doomed until a passing cop busted in and saved their butts.
Saint Martin's Princess Juliana International Airport is about as close as you can get to landing/departing passenger aircraft without special security clearance. It makes for spectacular photos and videos, which encourages the kind of stupidity on display here.
After Andrew Linn fell asleep at the wheel during a Thanksgiving visit to Las Vegas last year, he drove into a yard and through a chain-link fence, forcing a pole through the windshield of his car. Emergency responders said Linn was conscious when they arrived, and was even trying to use his cell phone to call for…
The U.S. auto industry is now completely falling apart. Literally. A giant metallic Chrysler Pentastar logo just fell down in the Chrysler display, barely missing decapitating someone here in Detroit. More pics below.
Take note: You do not mess with the motorheads at Beyond.ca unless you want 46,000 righteously angry, resourceful, and tech-savvy Canadians on the lookout for you. This is especially true if you're an easily recognizable eight-fingered stoner who's too stupid to stash one of the more visible and distinctive cars in…