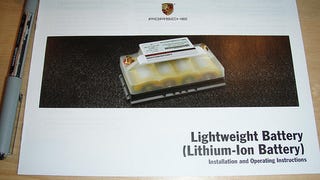 Porsche knows its customers are mostly overpaid, insecure idiots willing to fork over as much as they're asked. "Uhh... yeah, $1,700 for a lithium-ion starter battery sounds right." Even better, you'll still need a lead-acid battery for winter. [MotorAuthority]
Toshiba has improved it's Super Charge Ion Battery technology to the point where a 90 second recharge is possible. With enough amperage it would actually be faster to recharge than to fill up with gas.
Vying for the "psychological advantage," Toyota plans to bring out a plug-in hybrid before GM can release the Chevy Volt.
Hybrid Technologies, makers of electric Minis and the Mullen Motor GT, are working on a lithium-ion/gas plug-in hybrid not only capable of achieving 220mpg, but horsepower numbers that promise to eclipse those of the 638bhp Corvette ZR1. Speaking to Popular Mechanics, product development engineer Ron Cerven revealed…
Nissan has announced a strategic partnership with tech giant NEC for a lithium ion battery factory in Kanagawa Prefecture, Japan. The facility will operate under a new company dubbed Automotive Energy Supply and will be capable of putting out 16,000 batteries by next year, and 65,000 at full rate by 2011. With this…
Sure, lithium-ion batteries are all the rage with consumer electronics and are slowly making inroads with carmakers. Toyota, however, has bucked the trend and decided to say "Screw it!" and skip the lithium-ion battery bandwagon altogether. Rather, Toyota is looking towards some really futuristic concepts for auto…
Rick Wagoner, GM Chairman and Just For Men model, was on hand in Geneva to announce the second generation of GM's mild hybrid two-mode system currently found in trucks such as the 2009 GMC Sierra Hybrid and, soon, in FWD vehicles like the Saturn Vue. The biggest change is the addition of a lithium-ion battery supplied…
One of the major costs associated with hybrid vehicles is the Lithium-Ion battery pack that powers the electric motor. In that spirit, Ricardo and QinetiQ are teaming up with the UK's Department for Transport to create a dramatically cheaper battery. The project, cleverly called RED-LION (REDuced cost LIthium-iON),…
The General's awarded two contracts for development of lithium-ion batteries for its electric drive "E-Flex System." The "E-Flex System," if you'll remember, is the red herring vaporware electric vehicle architecture underpinning the Chevy Volt concept car shown earlier this year. One contract's heading over to…
Coolness arbiters at Animal New York may be spit-taking their PBR milkshakes right now, but the deal to bring electric-drive PT Cruisers to NYC is done. The first such lithium-ion taxi has landed in NYC, where its viability as a recepticle for cell phones and umbrellas and venue for drunken, post-midnight grope…
Earlier this year, Mitsubishi announced it would build an electric car — using a system of lithium-ion batteries powering in-wheel motors — by 2010, simultaneously showing off its Colt EV test vehicle and implying it would still be in business after 2007. Today, a more confident Mitsu announced it had built its second…