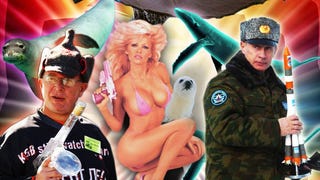 The Ruskie wildmen at Dartz, not content resting on their formerly-whale-penis-leathered laurels, are prepping a James Bond-inspired, gold-encrusted armored SUV complete with seats from Boris Yeltsin's plane. Act now and they'll throw in an actual golden gun with gold bullets.
The whole Dartz Prombron Monaco Red Diamond Edition with whale penis leather saga continues the weirdness. After announcing they'd nip the penis leather interior following outrage from PETA and Pam Anderson, they've built a "Penisgaurd" Volga to demonstrate their whale-penis-love.
It's Pamela Anderson's fault Russian custom car shop Prombron's backing away from including a whale penis leather interior on its ultimate offering, the $1.5 million Dartz Prombron Monaco Red Diamond Edition. Help us Stephen Colbert, you're our only hope!
Needless to say it was pretty over the top, however because…