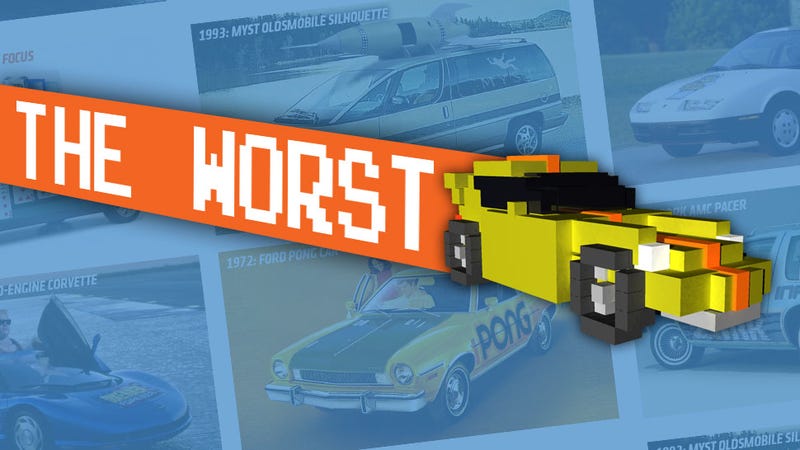 To celebrate the 25th anniversary of the world's most notable hedgehog, Honda showed a Sonic the Hedgehog-themed Civic at Comic-Con this year. But what people may not realize is the Sonic-Civic was actually just the latest in a long-running series of video game-themed cars to be shown at Comic-Con. And not all of them…
Take a deep breath before you realize that Sonic the Hedgehog turns 25 years old this year, and then let out a sigh of content when you see the cute Honda Civic adorned in a Sonic scheme for the San Diego Comic-Con. With Sonic on the back, it looks ready as ever to rev up and go for some golden rings.
Here's the first picture of the Teenage Mutant Ninja Turtles "Pizza Thrower" truck on its way to Comic-Con where attendees will be able to shoot pizzas (albeit faux to avoid food waste) at targets like Shredder and The Foot Clan. You'd hardly recognize a 2002 Toyota Tacoma under there, right?
San Diego got zombie-proofed today. The creator of The Walking Dead, Robert Kirkman, unveiled his one-off Zombie Survival Machine at Comic Con to celebrate the 100th issue of his comic. If we don't mass-produce this thing the zombies will kill us all.
Well, we're here in San Diego at this thing called a "Comic Con." Don't ask. Anyway, we've got these here exclusive amazing awesome serviceable shots of the new Chevy Camaro Salesgasm Transformers edition. Eat it up kiddies.
Here at the San Diego Comic Con, Chevy's revealed the 2010 Camaro Transformers Special Edition. Yes, for a mere $995, you can have your very own SS or LT robogasm with all sorts of stripes and badges. Gallery below.
TMZ's reporting Transformers star Shia LaBeouf faces misdemeanor DUI charges after he allegedly made an unsuccessful left turn in front of another car this morning at the corner of La Brea and Fountain in Hollywood. The Ford F-150 he was driving flipped with such force Spike Witwicky's real life counterpart sustained…
Sorry, we mean graphic novel series. Mazda is parterning with Top Cow Comics on a new series of colorful books that use more pictures than words to tell a story (what are they called again?). The series, dubbed "Revved" — a marketing vehicle dreamed up by LA's Spacedog agency — features a Mazda RX-8 in its plotline.…