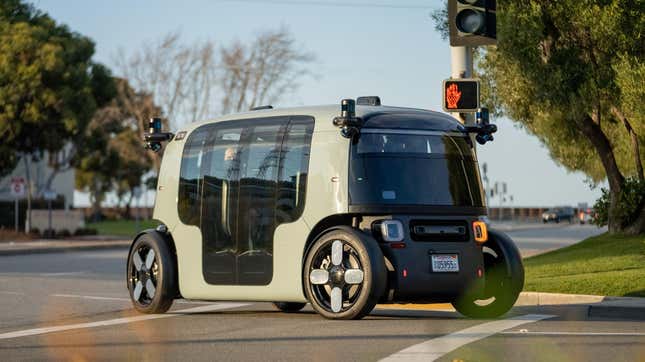 Carmakers face a new problem with EVs, which are so quiet in operation that they can be dangerous for pedestrians and fellow drivers alike. The fully-electric autonomous robotaxis that Zoox is developing (and planning to deploy on public roads soon) present a similar problem, albeit twofold, as the Amazon-backed AVs need to emit sounds that are simultaneously soothing, yet firm enough to make passengers listen for important audio cues in the cabin.

In case you missed it:
So, Zoox hired classically-trained musician Jeremy Yang to come up with a new sound profile for its robotaxis, meant to combine a relaxing soundtrack with insistent beeps and boops to convince users to buckle up, or fully close a door that's ajar, as Wired reports. That balance of soothing and annoying has been hard to master, but the company believes it has successfully done it by evoking airy synthesizers with an "ambient hum" in the cabin — broken up only by prompts that convey increasing levels of urgency based on the situation. Here's how Wired explains it:
Zoox has designed a whole suite of sounds for its vehicles. The resulting audio palette sounds like the synthy soundtrack to an '80s movie that's been sliced into tiny bits. The car's interior aura is a slow ambient hum, like something you'd hear on the chill-out radio station Hearts of Space. The idea is to make the experience of being a passenger feel peaceful.

If somebody is going to spend much time in an autonomous vehicle, the sounds have to be gentle enough to keep from becoming irritating on long rides, yet firm enough to cajole those who drunkenly stumble into the robocar into putting on their seat belt.
These firm sounds are featured on Wired, courtesy of Zoox: the company's "Enjoy the Ride" overture sounds like a startup screen from an old Windows OS, while the "Buckle Up!" prompt is a blip like a sonar with a quiet but firm introduction. The point is for passengers to relax, while remaining wary of their safety and security in the age of driverless ride-hailing services. These sounds inject some "necessary friction" into the otherwise seamless experience.
But the robotaxis also pipe urgent prompts from their exterior, to warn pedestrians to stay out of their way. As Wired notes, EV makers are required by law in the U.S. to ensure the safety of pedestrians who may have trouble hearing as a silent-running EV approaches. NHTSA says EVs traveling under 30 miles per hour must audibly warn pedestrians to their presence. Jeremy Yang has landed on an "arresting phaser" sound to warn oblivious pedestrians when a Zoox robotaxi is moving towards them.
But Yang goes on to say the difficulty is not just in designing the right house sound for Zoox — to disarm uneasy passengers and help them relax when fully placing their safety in the cold hands of a robotaxi — but also in crafting a sense of harmony in what's likely to be a rich landscape of sounds coming from the other EVs and AVs which could soon be on public roads in the U.S. Still, regulation will probably be necessary to standardize auditory AV warnings, and to quiet down the cacophony of the robots.