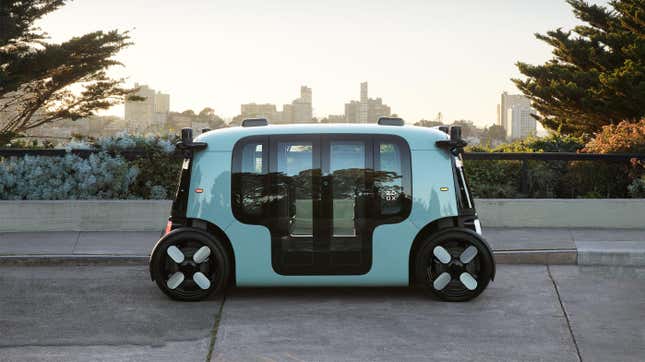 Federal regulators, including the National Highway Transportation Safety Agency, are looking into whether or not the robotaxis made by Amazon subsidiary Zoox actually meet requirements to travel on public roads. After the company self-certified the vehicles, it began using them to transport employees last week, according to Automotive News.
Zoox was able to do this after the California Department of Motor Vehicles decided the self-certification was enough. From there it received a permit from Foster City, California, to transport employees on public roads on a 1-mile loop between Zoox buildings. The company's CEO, Aicha Evans, told Auto News that the electric vehicles meet existing Federal Motor Vehicle Safety Standards.
Manufacturers can reportedly self-certify compliance, but, in some cases, NHTSA may scrutinize self-certifications to make sure they actually conform with standards set by the agency. That's what is reportedly happening to Zoox.
"The agency is evaluating the basis for these self-certification claims, and, as part of this effort, continues to review information provided by Zoox in response to questions previously proposed by the agency." a spokesperson for the NHTSA told Automotive News. 
The outlet reports that the agency does not pre-approve or stop the introduction of new vehicles or technologies, just as long as they conform with existing motor vehicle safety standards. Hell, even if the autonomous vehicle doesn't comply, it can still be deployed with a NHTSA exemption.
That being said, Zoox reportedly did not apply for any such exemption or really pursue any sort of regulatory avenues. Regardless, Evans told the outlet there were "no limitations" on Zoox's deployment.
Zoox robotaxis differ from most other self-driving vehicles in that they don't have a steering wheel, brake pedal, or any other controls a human driver would need to take over.
The company said its compliance efforts actually began years ago when it started its robotaxi blueprint back in 2014.