There are a few sporting events throughout the year that attract even the most casual of fans, just because they're so big and so important. Like the Indy 500, Daytona 500 or Monaco Grand Prix, the 24 Hours of Le Mans is one. If you've committed to watching cars for 24 hours straight this weekend, here's what you should know.
A Basic Breakdown Of The 24 Hours Of Le Mans
The 24 Hours of Le Mans is the race, even if everyone becomes a sleep-deprived weirdo 16 hours into it. Just getting to compete in Le Mans is a big deal, which is why drivers from all sorts of racing disciplines show up to have a go at it every year. Winning it is bigger.
The race is part of the World Endurance Championship, an FIA-governed series that holds races between six and 24 hours long in different parts of the globe during the year. But more than just WEC drivers show up.
The French 8.5-mile racing circuit made up of a full-time race track and big sections of temporarily closed public roads. The race has four different classes running all at the same time and the speeds vary significantly throughout the field, meaning that cars are lapping and passing each other like it's Mario Kart. The race also spans across an entire day, meaning visibility and weather conditions change throughout the course of the event.
G/O Media may get a commission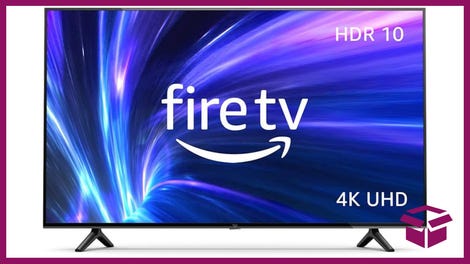 42% Off
Amazon Fire TV 50" 4K Smart TV
One driver doesn't stay in the car for the entire 24 hours, because that would be absurd and unsafe. Three drivers typically trade off in a race car, running stints throughout the day and night.

Le Mans might sound long and therefore not worth the effort to watch, but 24-hour sports-car races are some of the best shows around. Just last year, the Aston Martin leading the Le Mans Grand Touring Endurance Amateur, or LMGTE Am, class had a tire explode like a firework, Toyota's two top Le Mans Prototype 1 cars retired within the same hour, every car in the top LMP1 class broke, and the No. 2 car on the Porsche LMP1 team came back from 56th place overall to win the race after getting stuck in the garage for more than an hour.

That all happened in one Le Mans race, and let's not even get started on one of the other big 24-hour races, IMSA's Rolex 24 at Daytona International Speedway. This stuff is quality entertainment, whether you can hang for the entire 24 hours or not. Either way, here's how to know what's on your screen.
The Cars Of Le Mans
High-tech prototypes and sports cars—everybody's out there all at once. The free-for-all and variety is a big part of what makes WEC and Le Mans so fun. While the cars compete in different classes, they share the track and run the race at far different speeds from one another. It makes for a real show.
The four Le Mans classes are separated into two main groups: prototypes and sports cars. There are certain regulations that file them into separate classes, and while two classes may look alike, you can tell which class a car is in by the color of the box painted around its car number.
Here's a guide to the reasons behind those different colors, and there's a much more detailed spotter guide for cars and drivers in this year's Le Mans race here.
Le Mans Prototype 1
The Le Mans Prototype 1 class, or LMP1, is the class with the red box around its car numbers. Both LMP1 and LMP2 cars look like alien spaceships that also fly like spaceships on occasion—in a bad, accidental way.
LMP1 is the fastest class in WEC, with a decent amount of freedom in what teams and manufacturers can do with the cars. There are different engine configurations, along with hybrid and non-hybrid vehicles. Manufacturer teams run the hybrids, and Toyota is the only manufacturer team around right now.
LMP1 also has driver restrictions based on rankings by WEC's governing body, the FIA. The FIA ranks drivers as Platinum, Gold, Silver or Bronze to denote experience level, and amateur Bronze drivers aren't allowed in an LMP1 car.
WEC has spent the season so far trying to balance out the performance between the Toyota hybrids and the non-hybrid privateer cars, and has had some luck in testing. Le Mans will be a lengthy test, especially since Toyota has terrible Le Mans luck.
Le Mans has practices and three qualifying sessions before the race, and for an idea of how the privateer teams are doing against Toyota leading up to the race, here's the top-10 rundown from the first qualifying session at Le Mans:
LMP1 has made a lot of news in the past few years, both good and bad. Both Porsche and Audi left the class after parent company Volkswagen Group suddenly found itself strapped for cash, with the costs of running a team in LMP1 far outweighing the benefits of the series. Both announced they'd go to the all-electric, and hilariously cheap by comparison, Formula E championship instead. That left Toyota as the only manufacturer team in LMP1, along with doubts about the future of the class itself, though several privateer teams are running too.
But the news in recent years hasn't been all bad for Toyota and LMP1. Formula One Star Fernando Alonso decided he wanted to compete in WEC with Toyota along with the F1 season, and his championship participation was so big for WEC that the series changed a race date to accommodate his schedule—even though it put other regulars in a real bind. Alonso's team won the first race of the year at Spa-Francorchamps.
Le Mans Prototype 2

LMP2 cars look similar but are a little slower than LMP1 cars, with more rules and cost-controlling measures in place. Each LMP2 car runs a 4.2-liter V8, and car numbers have a blue box around them for the purpose of telling them apart.

The goals of LMP2 are low costs in production and maintenance, safety and reliability. If a particular model of a car starts to perform too well, the series can reel that car's performance back in so things don't get out of control.
The group of drivers in an LMP2 car has to include at least one Silver or Bronze driver in FIA ranking, which are both considered amateur. Silver has a few extra requirements to meet, meaning it's ranked above Bronze.
Le Mans Grand Touring Endurance
The Le Mans GTE category is the slowest of them all, and is split up into two classes: LMGTE Pro and LMGTE Am. ("LMGTE" also doesn't roll of the tongue quite as well as "LMP-," which is a real shame.)

LMGTE cars follow the same basic idea, being that the cars are production-based race cars like the Ford GT, Aston Martin Vantage AMR and Porsche 911 RSR. They look like real cars on the track—and also kind of like they're standing still when a prototype blows by, but hey, that's the fun of it. There are also regular attempts by WEC to balance out performance among these cars, which is expected from cars that are so different from each other.
The real difference between the two LMGTE classes is in the drivers. LMGTE Pro is geared toward professional drivers, whereas LMGTE Am can be a mix but has to include amateur drivers.
The Pro cars have a green box around their numbers, and the Am cars have an orange box around their numbers. For any race, WEC requires that a group of two or three drivers on a LMGTE Am car has to include at least one driver in the lowest Bronze category and at least one other who is either Bronze or Silver.
Notable Competitors In This Year's Race
Le Mans is a long race with a long list of drivers. Each car typically has three people wheeling it and, this year, each of the four classes has between 10 and 20 cars entered. The race also brings drivers from all over motorsports to run it, and some big names names committed to 24 hours of fun this year.
Alonso, is, of course, in the race for Toyota, and you might remember these names as well—former F1 drivers Jenson Button, Felipe Nasr and Pastor Maldonado, with Button racing the No. 11 car in LMP1, Nasr, a current IMSA WeatherTech Sports Car Championship driver, in the No. 47 LMP2 car, and Maldonado in the No. 31 LMP2 entry.

Current Formula E and WEC drivers Sébastien Buemi and Sam Bird are racing, with Buemi sharing the No. 8 Toyota LMP1 with Alonso and Bird in the No. 71 Ford GT in the LMGTE Pro class. IndyCar drivers Scott Dixon, Tony Kanaan and Sébastien Bourdais, who also races IMSA, are all in Ford GTs in LMGTE Pro.
Former IndyCar drivers Juan Pablo Montoya and Ryan Briscoe, who are both racing IMSA regularly these days, will be at Le Mans as well. Montoya is in the No. 32 LMP2 car, and Briscoe will race the No. 69—yes, "nice," we know—Ford GT in the LMGTE Pro category.
Only one woman is racing the 24 Hour of Le Mans this year: Christina Nielsen in the No. 80 Porsche 911 RSR in the LMGTE Am class. She's also immortalized in Lego, because she rocks.
How And When To Watch
We have a handy guide to how and when (hint: all day) to watch the race here, but in case you've already got 23 tabs open and don't want to expand another, here's the basic rundown.
For those in Canada and the U.S. who have cable, all 24 hours of the race will be on Velocity starting at 9 a.m. ET on Saturday. Anyone without cable can stream through the WEC or Motor Trend streams for a price, but the race itself is geo-blocked in the U.S. because everything is bad. In-car camera streams may be your best bet. There's also the option of Radio Le Mans, if you can't find a way to watch or need to leave the couch for a bit to do other things.
Go buy some extra coffee and get ready to slap yourself awake for 24 hours straight this weekend, because this kind of thing doesn't happen often and you have an entire year to catch up on sleep before it's Le Mans time again.
Good luck out there.