The glossy-green Jaguar XKR that chases James Bond's Aston Martin across the ice in Die Another Day (the Halle Berry one) throws a flurry of spikes and missiles, but the cool modifications you'd actually be able to use are hidden under the skin.
Hiding in "the vault" below the Petersen Auto Museum in Los Angeles is this movie-star XKR, and under that beautiful body work is a shortened Ford Explorer 4x4 chassis and a Ford Mustang 302 V8 engine.
It's an ass-hauling off-road(ish) Jaguar coupe, how cool is that? This thing, minus missiles, versus Rally Fighter is now the car-comparison review I now desperately want to write.
G/O Media may get a commission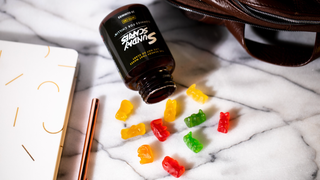 10mg CBD Gummies (22-Count)
The James Bond Wiki says eight XKRs were used for filming Die Another Day. They were all pulled out of Jaguar's "development fleet" of prototypes, and prepared by Jaguar's Special Vehicle Operations (SVO) group when they were still owned by Ford. Hence; the use of Ford Explorer parts to make it 4WD and a Mustang engine to give it the guts it needed to lug all those gadgets around.
Of the eight movie star cars four were a mix of regular 2WD XK8s and supercharged XKRs, four rode on the custom four-wheel drive chassis and transmission, and only this one, "Special Effects Car 1 (SFX1)" had the engine upgrade.
Because the "wheel spikes" in the movie were just Hollywood toys and didn't actually work, that awesome ice-chase necessitated 4WD and a locking center differentially which was activated by a big ol' lever next to the shifter.
Cosmetically the cars have Dorchester grey body kits, an R-performance option interior, Recaro seats, 20-inch "Detroit-style" wheels, Brembo brakes, and were finished in the same green paint Jaguar was using on their Formula 3 racing team at the time.
Images: Andrew P Collins, Jaguar