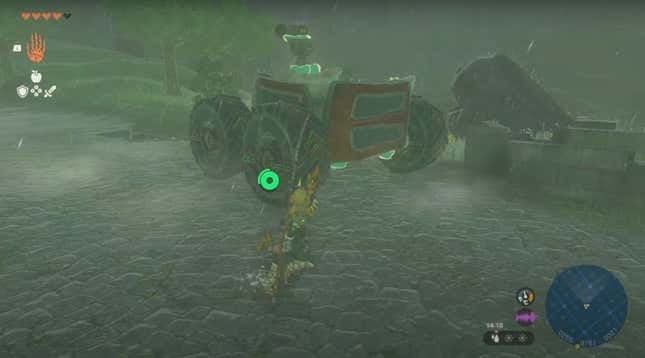 Unless you live under a rock, you're probably at least somewhat aware that the latest Zelda game in the long-running franchise has dropped and that people are losing their minds over it. It's called Tears of the Kingdom, and it is indeed extremely awesome for many reasons, but one of its coolest features is the ability to glue almost anything in the game to something else. Why is this relevant to you, the auto enthusiast? I'll explain.

In the game, there are these things called Zonaite Devices. They're basically leftover advanced tech from a long-dead civilization, and they are powered by these things called Zonaite Charges. When you deploy one of these devices and whack it with something, it turns on — following me so far?
Among the many kinds of Zonaite Devices available to you in the game are small wheels, big wheels, platforms, gliders, stabilizers, steering sticks and more, and – you are probably seeing where I'm going with this – that means you can build some pretty rad vehicles to rip around Hyrule in. Turn it into your very own Bokoblin Fury Road, you know?
Like its predecessor, Zelda: Tears of the Kingdom doesn't offer an overabundance of handholding with this kind of stuff, so leave it to folks on YouTube to help show off some of the things you can build to cruise around. I found this video particularly helpful, but there are many others.
So, if you're already playing the game and haven't really messed with these devices yet, now you know what's possible. If you are already a gluing-shit-to-other-shit master, show me some of your vehicular contraptions in the comments.