Cheap gas and a big shift toward SUVs and trucks have made it hard out there for small cars and sedans, but that doesn't mean they're bad. In fact, the new 2017 Chevrolet Cruze happens to be quite good—so good that Consumer Reports placed it above the segment benchmarks. And you may be surprised how cheaply you can get one.

Is it a great enthusiast car? Probably not. Does the interior have some fit-and-finish issues that are more Old GM than New GM? Sure. But your average buyer prioritizes, features, quality, and price. For these folks who are looking for a nice commuter car with minimal impact on their wallet, the Cruze seems to be a home run.
Doing battle in the highly competitive compact car segment requires a solid product at the right price. In the past, the Chevrolet relied more on the latter than the former. That seems to be changing, with the new Cruze, but thankfully they aren't giving up on their aggressive pricing strategy—plus, with the aforementioned SUV craze, they're probably looking to unload as many of these things as they can manage.
A look at Chevrolet's current offers reveals some super cheap lease programs in addition to factory rebates for purchases.
G/O Media may get a commission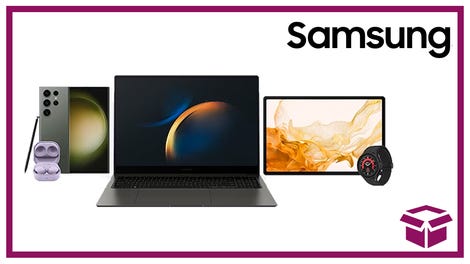 24 hour deals
Discover Samsung - Daily Deal
Obviously, there are some caveats to those $99 a month Cruze leases. First, the low down payment only applies to current GM lessees and the term is only for two years. If you are not in the GM family or require a longer lease, the payment will jump up a bit.
However, if you have a lease from any of the Asian brands, Chevy is throwing $3000 lease cash at the Cruze to get you to jump ship. When all is said and done, you should be able to lease a nicely equipped Cruze for much less than a Honda or Toyota.
Now if purchasing a car is more your speed, the sales on new Cruzes are massive with available discounts over $6,000 off the MSRP.
If some of these online prices seem a bit too good to be true, you can bet that there will be some rebates stacked in there that you may not qualify for. However, with some savvy shopping, scoring a deal with a much larger discount that you would have gotten with an import is certainly in the cards.

I should also mention that while finding a five-door, three-pedal Honda Civic is incredibly difficult—Autotrader currently lists only 63 cars for sale—Chevy has managed to put 400 Cruze hatchbacks on the market with manual gearboxes, most of them priced well below the $20,000 mark.
Also, don't forget that a 52 MPG diesel hatchback is coming soon.
If you are in the market for a nice compact that won't break the bank, don't let an import bias keep you from taking advantage of a great little car with a bow-tie on the hood.