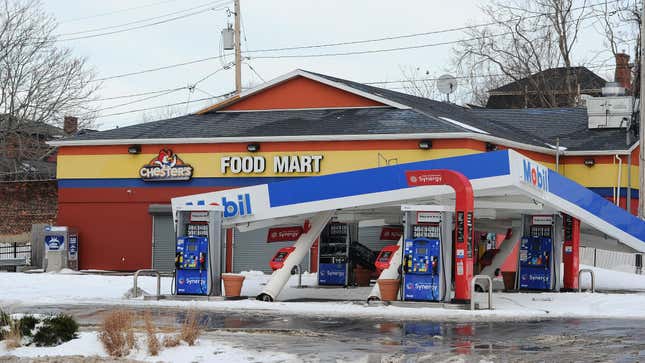 Gas stations are an essential part of automotive life. From interstate rest stops to major avenues, stations are peppered nationwide to ensure that no one is ever out of reach from an abundant supply of gasoline or diesel. While some may be replacing gas pumps for charging posts as they adopt electric vehicles, every driver needs a place to refuel while away from home.
What 'The Last of Us' Gets Wrong About Post-Apocalypse Cars
In case you missed it:
Today, I'm asking what your worst gas station story is. I know that no station is perfect, but I live 150 yards away from a gas station in New York City. Many other stations in the neighborhood are closer to highways, so my station is rarely crowded. There's also a pump attendant, so refilling there is always a breeze. I just pull up, top off my tank, and drive out right in front of my house. Though, most people aren't that fortunate.
Of the numerous incidents covered by Jalopnik over the years, the gas station story I dread the most is the supply tank mix-up. In 2018, a Mobil station in Waterville, Maine had gasoline and diesel put into the incorrect underground storage tanks. This error led to customers unknowingly pumping diesel into their gasoline-powered cars. While an exceedingly rare occurrence, we covered a similar incident two years later at a Circle K station in Boulder, Colorado.
Supply tank mix-ups are just one thing of the list of terrible things that could happen to drivers at a gas station. There are customers who want a premium parking spot at the pump instead of premium gasoline. There are drunk drivers who plow into gas pumps at full speed, which is not the best thing to do at a place of business that sells explosive fluids. Share your worst gas station epic below.