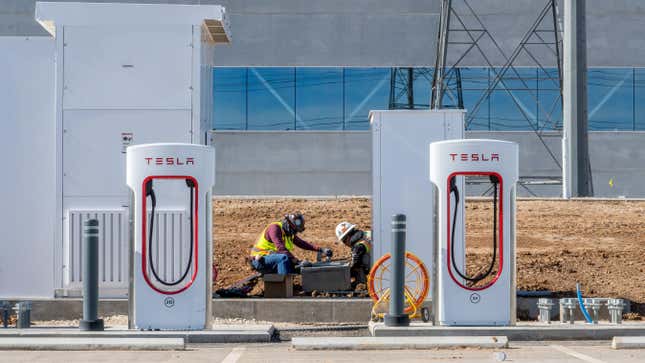 If Americans are ever going to go all-in on electric vehicles, we are going to need an extensive charging network capable of easing our range anxiety. The Biden Administration announced some much-needed updates coming for our charging infrastructure Wednesday, with Tesla playing a substantial role.
The Biden administration set a goal of 50 percent of new vehicle sales by 2030 and net zero carbon emissions by 2050. Lofty goals indeed, and it will take some serious spending to make it happen. To build a comprehensive charging network across the U.S., the Department of Transportation will be investing $5 billion to build 500,000 made-in-America chargers along highways in order to support long-distance driving.
Tesla will open up 7,500 of its Superchargers and Destination Chargers—less than half of what the company currently operates—to non-Tesla owners, though some of the chargers included in that number already support non-Teslas with the addition of an adapter. This deal gives Tesla access to some of the $5 billion earmarked for the National Electric Vehicle Infrastructure program, allowing the automaker to double output of Supercharger production at its Buffalo, New York, plant. According to the S&P Global Mobility estimates Tesla operates some 16,822 Tesla Superchargers and Tesla destination chargers in the U.S.
But opening up some Tesla chargers is only addressing half of the problem. In order to reach mass EV adoption, owning an EV in general has got to get easier. To that end, the DOT and Department of Energy finalized standards for charging. The Federal Highway Administration released comprehensive standards for the installation, operation, and maintenance of EV charging stations. The standards also address connector types, payment methods, data privacy, speed and power of chargers, reliability, and the overall user experience. From the White House announcement:
Charging is a predictable and reliable experience, by ensuring that there are consistent plug types, power levels, and a minimum number of chargers capable of supporting drivers' fast charging needs;
Chargers are working when drivers need them to, by requiring a 97 percent uptime reliability requirement;
Drivers can easily find a charger when they need to, by providing publicly accessible data on locations, price, availability, and accessibility through mapping applications;
Drivers do not have to use multiple apps and accounts to charge, by requiring that a single method of identification works across all chargers; and,
Chargers will support drivers' needs well into the future, by requiring compatibility with forward-looking capabilities like Plug and Charge.
Not only expanding the network, but fixing the one we have, will be a big boon to mass adoption. Studies find EV owners constantly dissatisfied with the charging options that do exist. One study found over a quarter of EV chargers in the San Francisco bay area—a bastion of EV adoption—were out of order.