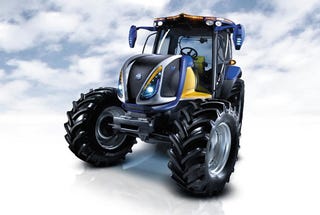 Though we're not tractorlopnik, it's impossible to ignore the agricultural hotness of the New Holland NH2 hydrogen fuel cell tractor. It makes us want to plow so hard.
The concept behind the NH2 is to build a zero-emissions tractor with a 106-horsepower electric motor sending power to the four wheels. Despite its hot looks, its high price and its relatively small range means it isn't going into production until 2013 as the company improves the technology and, likely, is waiting for the market to improve.

Not surprisingly, this New Holland Agriculture tractor debuted in Italy, where it fit in with the Ferraris, Bugattis and Lamborghinis.
[Source: Farmers Weekly Interactive via AutoBlog Green]