Volkswagen finally figured out how to sell a wagon to Americans! Maybe. Granted, Subaru solved this problem with the Outback a long time ago and has been selling boatloads of their lifted wagon. Now VW's trying something from the same playback. But despite the initial positive reviews, the 2017 Golf Alltrack might not be the sales savior that VW is hoping for.

The Ford Taurus Is Reborn — But Only For the Middle East
While the VW Alltrack isn't exactly the same size as the new Outback (it's closer in dimensions to the '90s generation Scoobie, though not even as long as that one), a potential buyer is bound to cross-shop the two lifted wagons, and VW is facing a bigger challenge than they may have anticipated. It has its dealers and pricing to thank for that.

Smaller, But Not Cheaper
The Alltrack has a starting price of $26,950 with the DSG, compared to the Outback's base MSRP of $26,520 for a 2.5 CVT. The Alltrack does offer, it must be said, a more features for your dollar as you move up the trim levels.

G/O Media may get a commission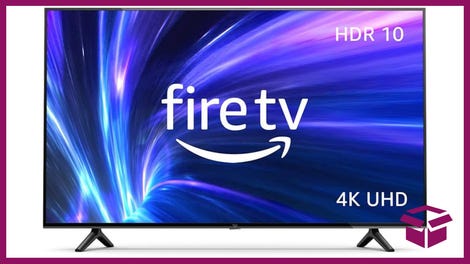 42% Off
Amazon Fire TV 50" 4K Smart TV
Yet the VW gives you less cargo space, an arguably inferior all-wheel drive system (that's VW's FWD-biased Haldex versus Subaru's smarter system), and a brand average cost of ownership rating that is statistically higher than Subaru.

Thanks to some very good marketing and backed up by quality engineering, Subaru has established itself as the brand for folks who want safe and reliable. Even though Volkswagen consistently gets top marks for safety, it lacks the perception from the American car buying public as a "safe" brand.

Dealer Discounts Don't Add Up
Now you would think with VW's sales situation, the dealers would be throwing all kinds of money at their inventory to make a deal. You would also assume that because Outbacks are flying off the lots, Subaru dealers are not motivated to discount their cars.

That hasn't been the case at all. I've done about a half a dozen Outback deals in various metro areas in the past four months. Every Outback I brokered from a base model all the way up to a loaded Limited was offered well below invoice price. I even had a dealer in Chicago take an unprecedented $4,500 off the sticker for a factory ordered unit. (Don't get me started on ordering a VW from the factory.)

The VW dealers I dealt with, on the other hand, barely dipped below the invoice price and simply could not compete with the Subaru deals even with rebates from VW at their disposal. Remember that the Alltrack will be the new hot car on VW lots. I doubt buyers will find generous discounts within the first few months after launch.

Don't Even Bother Trying To Lease It
It sounds weird, but a lot of people lease cars in this category and this is where VW is going to get clobbered with their low residual values. I just did a deal in California for a customer looking to lease a base Golf Sportwagen with an MSRP of about $24,000. The lease payment with came back around $290 a month. I got him a quote on a $30,000 Outback with the same lease terms and a payment of $253 a month.
Due to Subaru's 70 percent residual value, he was able to get a wagon that was $6000 more expensive, yet keep almost $40 a month in his pocket every month. Even though the Alltrack is a different car than the Sportwagen, I can't imagine it is going to fare much better when it comes to leases
For your average buyer, the math matters way more than enthusiast snobbery about CVT gearboxes.

But It Will Come With Three Pedals!
This could be the only compelling reason to get an Alltrack. You can order it with a genuine three-pedal manual transmission!
But the dozen or so weirdos that want a lifted Golf wagon with a stick aren't going make a dent in Outback sales. Subaru used to offer the Outback with a six-speed manual, and no one bought it because the vast majority of buyers in this segment don't care about rowing their own gears.

As a Volkswagen GTI owner, I want the brand to do well. I would rather them offer us the Alltrack than give up on our market completely, and if this wagon keeps a few disgruntled Dieselgate owners from jumping ship I would consider it a success.

More competition in is always a good thing. But this isn't the car that is going to rescue VW, and the market realities are going to make the Alltrack a tough sell for your typical car buyer, unless VW dealers get really aggressive with the sale prices. Given that this is a brand new car, I'm not filled with hope.