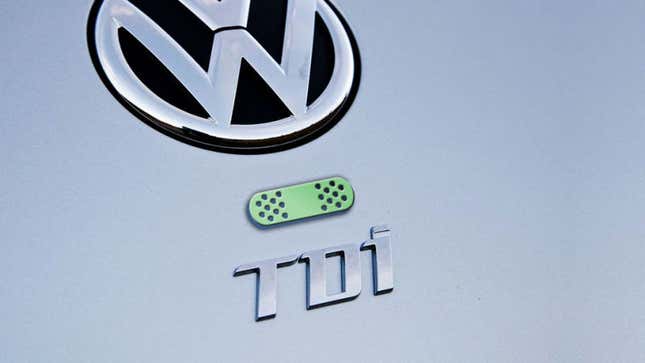 As part of the unprecedented $14.7 billion settlement released earlier today, Volkswagen will offer substantial cash payments to owners of the 482,000 diesel four-cylinder cars affected by the emissions cheating scandal. If you own one of Volkswagen's NOx-spewing machines, here are step-by-step instructions on how you can calculate how much money you're owed.
Volkswagen Unveils the Jetta GLI Performance Concept
You have two options if you own or lease a Volkswagen diesel car in the United States: Let VW buy back your car, or have the company fix it for free. Either way, on top of the basic buyback or repair costs, Volkswagen is going to pay you "owner restitution," cash to compensate for its wrongdoing.
The settlement applies to 2009-2015 Jettas, 2009-2014 Jetta SportWagens, 2010-2015 Audi A3s and Golfs, 2015 Golf SportWagens, 2013-2015 Beetles and 2012-2015 Passats.

What To Know
While the settlement includes complex calculations across more than 200 pages of legal documents, the website for the U.S. District Court's Northern District of California helpfully includes tables that show compensation ranges for each of the affected cars. Owners and lessees can also look up their vehicles on Volkswagen's court settlement website.
The tables include not just the buyback value of the cars but the restitution payments, which range from $5,100 to around $9,800, depending on the year and make of the vehicle.
Lessees will be compensated as well, and will be given the option to have their leases terminated at no cost.
The specific repairs that Volkswagen must do, if you choose to repair one of the cheating cars, are still being worked out with regulators. When that fix is determined, it is expected to be rolled out to dealers in November; buybacks will begin in October.
According to Reuters, owners must submit a claim to www.VWCourtSettlement.com by Sept 1, 2018. They can start doing so by July 26.
How much cash might be coming your way if you have one of the cars? And should you opt for the buyback or the repairs? Working out exactly what the settlement means to you is a bit complicated, but here is a step-by-step guide.
Determine Buyback Or Modification Payment Without Adjustments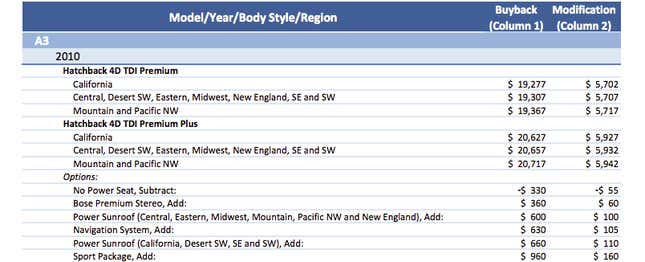 To calculate how much you'll be paid if you opt for either a buyback or for a free vehicle modification, use these tables, which are similar to the one shown above. Choose your "NADA region," which is based on the state the vehicle was registered in as of September 2015.
Here's a list showing which states belong to which region. After you've chosen your vehicle and your region, add your vehicle options, and then compare the figures for buyback or modification.
Note that the tables are based on the "clean trade value" specified by NADA in the September 2015 NADA Used Car Guide. The restitution amounts in the far right column are determined by taking 20 percent of the vehicles's NADA value, then adding $2,986.73 to it.
The buyback column is essentially just the September 2015 (that's when the Dieselgate story broke) NADA value plus the payout number in the "modification" column.
Adjustments For Mileage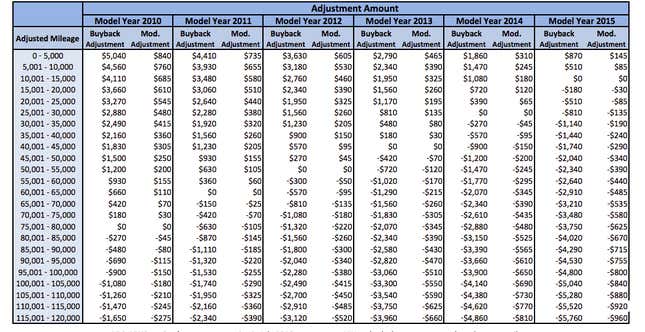 Once you've added the value of your vehicle's options to the figure in the "buyback" or "modification" column, it's time to make adjustments for mileage.
To determine the "mileage adjustment," VW TDI owners are going to have to back-calculate how many miles their cars had as of September 2015, assuming the standard NADA mileage of 12,500 miles every 12 months, or 1,042 miles every month.
So, let's say you bring your 2010 Golf in for the buyback or for the fix this October with 110,000 miles on the clock. By then, 13 months will have elapsed since the scandal broke, meaning—as far as NADA is concerned—you will have driven 13 x 1,042, or 13,546 miles in that time.
So, you'd subtract that number from your odometer reading of 110,000, and you'd wind up at 96,454 miles—that's meant to represent how many miles your car had in September 2015.
Then you'd pick the number off the chart corresponding to a 2010 Golf with 96,454 miles (in this case -$900 for a buyback or $-150 for a modification) and add that to the number you calculated in the previous section (so in this case, your buyback number from the previous section would drop by $900, and the modification value would be reduced by $150).
To do this on your own, mileage adjustment tables can be found here.

So How Much Money Do I Get?
Once you've added mileage adjustments to your "buyback or modification" number, you now know how much you'll receive if you sell your vehicle back to VW or have it fixed.
It's worth noting that even if you have the oldest, cheapest car, with the highest possible mileage, you're guaranteed at least $5,100 in restitution. So, for example, if your "modification" total after mileage adjustments reads $3,000, you will either receive $5,100 (if you're having your vehicle fixed), or an additional $2,100 on top of your "buyback" value from column one in the tables above.
And if the car has changed hands since September 18, 2015, the owner restitution payment will be divided 50/50 between the current owner and the one who owned it as of September 18th.
An Example
Let's say you live in Detroit and own a 2009 Volkswagen Jetta TDI with navigation and 200,000 miles on the clock. You take your vehicle in this November.
The first thing you do is open up the NADA region list, and find that Michigan is in the central region. You then open up table 1A, scroll down to page six, and find that your buyback value is $12,527, and your modification number is $4,577.
You add the value of your navigation system, meaning you add $420 to the "buyback" number and $70 to the "modification" number. So now your total "buyback" amount is $12,947, and the total amount you'd get if you opt to get your car fixed is $4,647.
Then you have to calculate how many miles your car had in September, 2015. Since you're taking the car to be repaired or bought back in November, 14 months will have elapsed by then. So you multiply 14 by 1,042 (the average number of miles a person travels in the U.S. each month), and you arrive at 14,588.
You then subtract 14,588 from 200,000 and arrive at 185,412. Look that value up in the mileage adjustment table (in the 185,001-190,000 row), and you'll find adjustments: -$3,780 for buyback or -$630 for repair.
Add those mileage adjustment figures to the original numbers of $12,947 and $4,647, and you get a new buyback number of $9,167 and a modification number of $4,017.
But because that new modification number is less than the $5,100 floor for restitution, VW would actually pay you $5,100 if you did the fix. Likewise, if you got the buyback, the company would have to add $1,083 (the difference between $5,100 and $4,017) on top of the adjusted $9,167 value, for a total of $10,250 (this is the total compensation for the buyback including the September 2015 value plus the cash payment).
Complicated? Hilariously so. But Dieselgate is a complicated mess, and fixing it will not be simple. Also, VWCourtSettlement.com promises to have all of these calculations automated by July, so if you wait a month, all you'll need to do is enter your VIN.