There's an official mission statement Tesla employees learn when they first start their job: "Accelerating the world's transition to sustainable energy." It's an ambitious proposal that hinges on selling attractive, electric cars under a business model that's unique to the auto industry—a "direct sales" approach where vehicles are sold directly to consumers by Tesla, not through a third-party dealer, as is customary and often legally mandated at the state level.
But as Tesla tries to spur an electric car revolution, the salespeople who are key to actualizing the automaker's project say they're being overworked, underpaid, and outright mistreated, according to court records, interviews, and documents obtained by Jalopnik.
Last month, Tesla agreed to settle a federal class-action lawsuit brought by three current and former Owner Advisors—the job title ascribed to one segment of salespeople—for $1 million. The lawsuit accused Tesla of failing to pay sales staff a minimum wage, overtime, as well as provide proper meal and rest breaks under California law. (Under the settlement terms, Tesla denied any wrongdoing, and each of the 253 members in the class will each receive an average of $2,200.)

Attorneys for the plaintiffs in the case didn't respond to repeated requests for comment.

"Whenever Tesla asks you to do overtime or do part of the job that's really not in your job description, your manager would tell you to do it for the mission," said a current owner advisor, who spoke on condition of anonymity for fear of reprisal. He said he feels like he "never [has] a day off," and when he does it's filled with dealing with owners off the clock.

Through numerous legal battles over the direct-sales method—something that's earned support, including from this publication—Tesla has made the case that its preferred way of selling cars makes for a better all-around experience.
In a statement, a Tesla spokesperson defended its model.
"There's a reason most people think buying a car at a traditional auto dealership is worse than getting a root canal: the focus is on selling cars at all costs rather than actually doing what is right for the customer," the spokesperson said. "Tesla has a fundamentally different approach, and customers actually enjoy the experience. In part, this is because we train our owner advisors to spend as much time as necessary to educate our customers about our technology and we never pressure anyone to buy."
While it's hard to have sympathy for traditional car dealers, Tesla claims the direct-sales method also benefits employees.

"Independent dealers typically rely on fast, high-volume sales at the highest negotiable price, and frequently pressure customers to purchase add-ons and services that they do not want or need," Tesla argued in a 2017 lawsuit, whereas its system "eliminates the haggling and hidden fees that have contributed to consumer mistrust of automobile dealers." Tesla's sales employees are compensated in a way that "encourages a low-pressure retail experience," the company said in the suit.
But the documents and interviews portrays an environment that sharply contrasts with Tesla's description—one that sounds an awful lot like the high-pressure experience of a traditional car dealers, with stressed out sales staff working as much as 60-80 hours a week to close deals.

It's not as if every sales employee feels slighted—as one former owner advisor put it, "There are people who are drinking the Kool-Aid, and those who are not"—but in a way, these complaints seem like the trickle down effect of CEO Elon Musk's manic approach to doing business—always over-promising on goals for Tesla and tweaking things on the fly. As Tesla tries to achieve the overly ambitious targets set by Musk, workers at the company's California assembly plant have drawn intense scrutiny to what they describe as a haphazard work environment for making cars.

Turns out, Tesla sales staff—the boots on the ground trying to move cars off Tesla lots and into driveways across the world and to help accelerate the world to sustainable energy—are feeling the effects of the business strategy as well.

Part of the issue, current and former employees say, is that Tesla constantly changes quarterly sales targets for them. That's crucial to their compensation. Owner Advisors and Product Specialists, another tier of sales workers, start out at a salary in the mid-$30,000 range, with the expectation they could earn three-to-four times that amount by earning quarterly incentive bonuses, whereas traditional car salespeople earn a big payday from per-sale commissions.
"They make it seem like you're for sure going to make six figures," said a former owner advisor at a California store who spoke on condition of anonymity.
The bonus structure is based on what car model is sold, as well as how many total cars are sold in a quarter, according to court records and interviews. A basic Model S 60 could net $50 per sale, for instance, while a more loaded Model S P100D brings in $300. (Tesla said owner advisors don't receive an additional bonus if a pays for additional features on a car, so as to avoid incentivizing them to upsell.)
The bigger paychecks come when quarterly sales targets are hit: 60 units in a quarter—roughly one every 1.5 days—could net an extra $7,500, according to court records.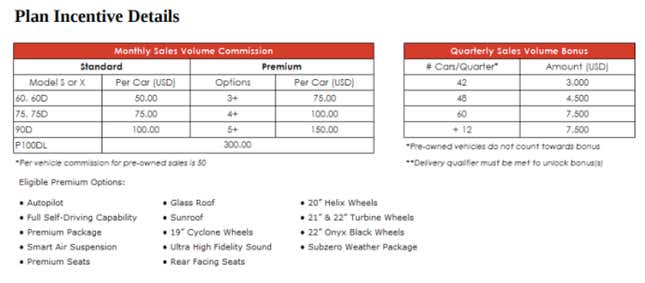 Tesla's spokesperson said the automaker pays owner advisors a "significant portion of their compensation as guaranteed base pay, meaning that they can focus on patient customer education." The "vast majority" of owner advisors achieved their sales targets in the last quarter, the spokesperson said, and they have the ability to earn a cash comp of over $150,000 per year.
"Furthermore, all of our owner advisors receive equity in the company upon hire, with the opportunity to earn additional equity over time," the spokesperson said.
But Tesla sales employees who spoke to Jalopnik said the company makes those bonus targets exceedingly difficult to hit.
"For one month they'd say, 'OK, you need to sell eight inventory cars, and then eight custom built cars,' and then next month they'd say, 'No, just kidding, you need to sell double that," said another former owner advisor who spoke on condition of anonymity. "They'd change our structure in the middle of the quarter."
Tesla denied targets change during a quarter after they're set and communicated to owner advisors. Targets are based on overall company sales targets, as well as planned production levels, and they're adjusted on a quarterly basis. In rare instances, the automaker said, targets may've been lowered in the middle of the quarter, but they're not raised or made more difficult to achieve.
It's no surprise that selling cars translates into a stressful livelihood for many on the ground, but Tesla is supposed to be different. As Tesla would put it, the direct sales approach provides an all-around better experience from the top on down. But it's a structure that left sales employees oftentimes feeling empty, the ex-staffer said.

"I was miserable," they said. "We were all miserable."
'This Is A Serious Situation. We Left Our Jobs For Tesla'
When Ryan Lakenan was promoted from Assistant Store Manager to Store Manager of a Tesla showroom in Santa Monica, California, he was informed he could earn extra compensation through the company's sales incentive plan. The plan entailed earning extra cash through commission payments for each Tesla vehicle sale in which he was involved, according to records obtained by Jalopnik under a public records request.
It didn't work out like that, however, Lakenan claimed. In a June 2016 complaint filed with California regulators, he alleged that Tesla "regularly took steps to undermine" his ability to earn commissions.
"Such steps included manipulating the incentive plan while keeping Mr. Lakenan and others uninformed about specific details of the plan, and at the same time continuing to make promises about the plan in order to motivate Mr. Lakenan to sell Tesla vehicles," the complaint said.

Lakenan couldn't be reached and his attorney didn't respond to a request for comment, but owner advisors who spoke with Jalopnik echoed his perspective—that Tesla regularly altered the foundation of the incentive plan in ways that made it virtually impossible to hit their targets, which, according to the current former owner advisor, are dictated by Tesla's management team and can vary by store. And Tesla complicated efforts to earn bonuses with the recent implementation of customer satisfaction surveys, the current owner advisor said.
"They've started basically deducting 25 percent of our bonus if we don't get a 90 percent or above," the owner advisor said, "and the problem—the huge problem—with that is that it's always evolving. They know it's flawed, but they're saving tons of money [as a result]."

Three current and former owner advisors said the company's sales teams underwent significant change in 2015, after Tesla hired former Burberry senior vice president Ganesh Srivats to lead its North American sales staff.
Before then, one former owner advisor said they made "a lot of money."
"I was really surprised," they said. The work culture was relaxed; sales quotes were still in place, but they had "realistic sales expectations," the former owner advisor said. But the company "cared a lot more about the staff at the time." Then Srivats came on board.
"That's when it started going downhill from there," said one former owner advisor, adding: "As soon as all those changes started happening, they made it really difficult for the sales people to make any money."
And those changes made it utterly complicated to hit the sales targets for the quarter, they said. For context, say your goal was 10 cars per month. If you sell 10 cars, you get the commission for each car sold plus the quarterly bonus for the quarter. If you sell only eight cars, you only get the per car commission, not the bonus.
"Thousands of dollars in difference," the former owner advisor said of the compensation lost when quarterly targets aren't hit.
Nonetheless, sales workers are working constantly to close deals, the current and former employees said. It's the nature of the business, they said; otherwise you wind up missing your quotas.

The employees who spoke with Jalopnik described working anywhere from 45-80 hours per week, having to field calls from concerned clients on the weekend or even on vacations—again, not far off the retail model it's supposed to be better than.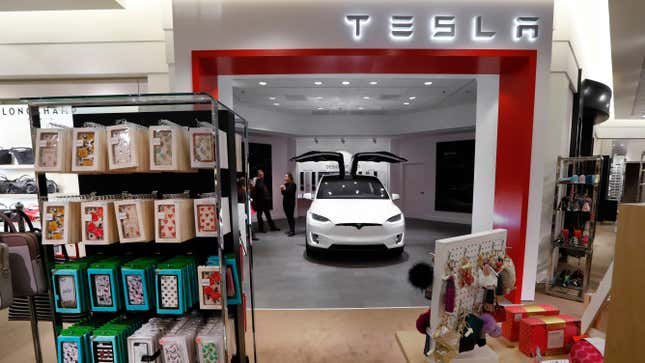 "Customers would just constantly call, call, call [about their cars]," one former owner advisor said, "and Tesla never gave us an option."

Another former advisor said the reason had to do with competition in-house. If they didn't close their deal, their store might lose a customer or their coworker might get the sale.

"You come home, maybe someone's called, they have more questions about the car," said another former owner advisor. "You're not going to ignore the call because you need to close these sales."
Tesla said employees aren't required to take calls or work at all hours of the day. Owner advisors are scheduled for 40, Tesla said, and manager approval is needed to be able to work more than 45 hours per week.. The automaker added that it's inaccurate to say only those who work long hours can meet sales targets.
The automaker's system for giving test drives to prospective buyers also placed owner advisors in a precarious position, two employees said. Those who requested a test drive could indicate, say, if they're just a "fan" looking to drive a Tesla with zero interest in purchasing a car, or if they intended to purchase a vehicle.
"There'd be all these fan drives," one former owner advisor said. "I would get scheduled fan drives, then a guy who's been there for years would get [a celebrity]."
"Meanwhile, there's pressure on me to sell these cars," they continued. The effort to handle "fan" drives ate away at their time to focus on closing sales.
The workers who spoke with Jalopnik said they ultimately felt demoralized by the always-moving bonus targets. Having been lured to Tesla by the company's mission or simply the prospect of earning a decent wage, the allure of the job eventually wore off, they said.
"You could get fired for not meeting your goal," the ex-owner advisor said. "This is a serious situation. We left our jobs for Tesla."
Sales Workers Go Public With Lawsuit
The employees' complaints were amplified in a 2017 lawsuit filed in California by Brian Wilson, a former owner advisor who worked for Tesla from August 2016 until his resignation last September. Wilson, according to the suit, was paid an annual salary of $38,970 per year, and Tesla set his annual targeted commissions at $43,200—a decent total compensation, when combined with the salary, in California.
Wilson alleged that Tesla violated California law by misclassifying them as exempt from overtime under an exemption for commissioned salespeople.
Under California law, salespeople who earn commissions must earn 1.5 times minimum wage and earn more than half of their compensation from commissions. That never happened, the workers alleged in the complaint, and owner advisors don't perform job functions "to warrant exemption."
The issue at hand, Wilson argued, is they never received more than half of their compensation from commissions. And the commissions themselves shouldn't even be classified as "commissions" under the law, they alleged, which should be a percentage of the item sold, not a set dollar amount.
"Even if their additional income were deemed commissions, this income never amounted to over 50 percent of their total compensation," according to the complaint.
"Moreover, since Wilson and the other Owner and Sales Advisor regularly worked over 80 hours per pay period, they did not earn at least one-and-a-half times the minimum wage during a pay period." Tesla also failed to provide proper meal and rest breaks under California law, the complaint alleged.
Tesla said Wilson raised no concerns about the automaker in his resignation letter, which the automaker provided to Jalopnik. In the letter, Wilson said "working at Tesla has been one of my most memorable professional experiences, and I will be taking only good memories from this job along with the many relationships that I have forged with my colleagues."
Tesla said the thrust of Wilson's complaint was that the base pay for owner advisors was too high, when compared to the bonus compensation, to be classified as exempt under California law. But nevertheless, in January 2018, Tesla reclassified its owner advisors to non-exempt status under the state's law.
Wilson's suit names two additional plaintiffs, both former owner advisors, who echo his complaints.
Carrie Hughes was hired in February of 2017 at an annual salary of $38,970, according to the complaint, with the expectation of receiving roughly $49,000 annually in compensations.
"Hughes worked approximately sixty (60) hours each week and worked through her meal and rest breaks," the complaint alleged. By July, she no longer worked for the company.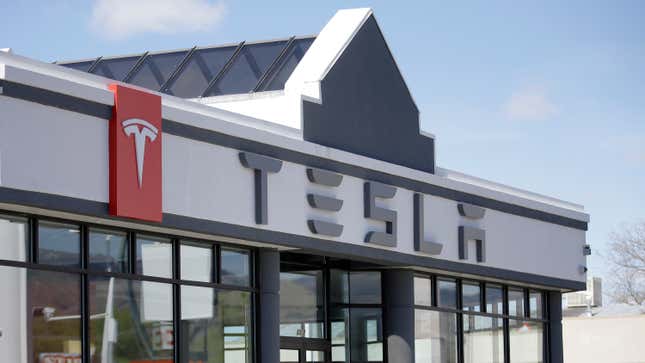 Katia Segal, a third plaintiff, worked as an owner advisor from December 2013 until May 2017, the complaint said. Management "repeatedly" recognized her as a top owner advisor, according to the complaint, typically working 55 to 70 hours per week. Still, the commissions that should've brought her a significantly higher income never amounted to 50 percent of her total income, the complaint alleged.

"Tesla required Plaintiffs and the other Owner and Sales Advisors to work well over eight hours per day, 40 hours per week, and 80 hours per pay period," according to the complaint. "Because Plaintiffs and the other Owner and Sales Advisors should have been classified as non-exempt and paid an hourly wage, they did not receive at least minimum wage for all hours worked and overtime when they worked over 8 hours a day or 40 hours a week."
The case was headed for trial until earlier this month, when the workers and Tesla told a federal judge they'd reached a settlement agreement to end the dispute for $1 million.
Tesla had argued the worker were subject to employment documents signed at the start of their job, barring them from joining class-action lawsuits, a controversial issue that was before the U.S. Supreme Court this month. In a 5-4 ruling, the court upheld class-action waivers, but according to court filings, the settlement is still set to go forward. Under the proposed deal, each of the 253 owner advisors subject to the agreement would receive an estimated $2,200 payout.
The plaintiffs attorneys didn't respond to repeated requests for comment.

'Never Once Bonused At Tesla'
Like most Tesla employees, the current and former owner advisors who spoke to Jalopnik said they were lured by the prospect of the company's mission. One former owner advisor emphasized they were assured they'd earn the type of robust compensation package she'd made working for high-end retail outlets of the passed.
After several months on the job, in late 2016, the former owner advisor said they finally believed they were on target to earn a large quarterly bonus after meeting a sales quota for the first time. Selling two-to-three Tesla per week is a "triumph," the ex-worker explained, and in one month they netted about 25 sales in total.
But management switched up the target again, they said, asserting several of the sales should've been so-called "inventory" units—cars that could be turned around and delivered in a couple days. As a result, the former worker alleged, they ended up not earning the bonus after all.

"They changed the rules around compensation all the time to not pay you," the ex-worker said. "After that I was done with Tesla," Weeks later, Tesla terminated them. The reason? For not selling enough cars.
"It was the worst income I had made in 10 years," the ex-worker said of her compensation at the automaker.
As Tesla tries to move into the mass market by delivering the estimated 450,000 Model 3s it has on order, and beyond, it's almost certain the company's sales staff will play an integral role in the effort to grow the automaker from a boutique outfit into a mainstream behemoth, all the while staving off financial uncertainty. Once the Model 3 backlog's cleared, the launch of Tesla's Model Y crossover—another revolution in waiting, according to Musk—is around the corner.
For anyone who might be interested in pursuing that opportunity, they wouldn't find an endorsement from one the former owner advisors who spoke to Jalopnik:
"Anybody who asks," they said, "tell them don't work for Tesla."