Even as immense as the 2017 GMC Sierra HD Diesel is, its fart cannon tailpipe looks as comically oversized as the one on your high school buddy's mad tight Honda Civic Si hatchback. As you may know, a high-flowing exhaust helps a turbocharged engine make power, but the tips on this particular truck are extra large for safety, not style.

The exhaust exit was actually one of the first things I noticed about GMC's heavy duty truck. "You guys aren't messing around with flow on this thing, huh," I said, easily fitting my entire coffee cup inside the chrome cave hanging below the back bumper.
"That's actually just the tip," engineer Tom Dye replied. I looked closer and realized, indeed, the biggest part of the pipe's exit was just a clip-on tip. And it was full of vents.
G/O Media may get a commission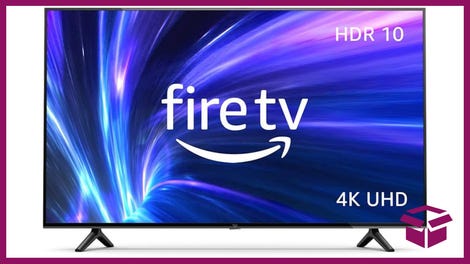 42% Off
Amazon Fire TV 50" 4K Smart TV
"Those vents cool the exhaust gas as it exits the pipe," Dye went on. Diesel exhaust is extremely hot, sometimes dangerously so, but as you go down the road air passes through these vents and takes it down to a safe temperature, he explained.

At idle, exhaust gas temperature apparently isn't too much of a concern. You should be able to use the bumper step and work off the tailgate while the truck is running without fear of scorching yourself.
But at highway speed, while the truck's working hard to pull a trailer, the heat coming out of the truck's tailpipe could be hot enough to melt your boat or hurt your horses. Or the front bumper of whoever's tailgating you.

GMC's techs made sure I understood that this wasn't new or proprietary technology, but I'd never noticed it myself. And now we know!