It's Super Tuesday! A day in which America plays pretend politics more than usual and has all of its fears of a horrible next four years realized! It sucks! So to make it better, let's "vote" on the best new super unveiled at the Geneva Motor Show today (and yesterday) instead!

---
In no particular order, but at least starting with Red and Blue to continue with the whole American politics theme, here are your candidates:

The smart, forward-thinking and efficient supercar that only the kids know of or seem to care about, the Koenigsegg Regera!

G/O Media may get a commission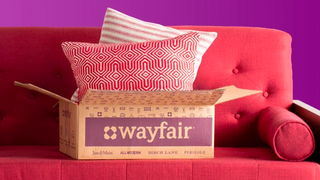 Big deals
Wayfair Surplus Sale
The incumbent favorite among high-schoolers everywhere, the Bugatti Veyron 2 Chiron!

Next up is the young athletic candidate with a great social media presence everyone is secretly attracted to but who is ultimately probably flawed, the Aston Martin DB11!

Then there's the troublemaker who is always in the headlines with questions of sobriety, partying, and hookers—the Lamborghini Centenario!

Of course there's always a candidate who is stuck in the shadow of its older brother with a thick accent who can't seem to help but resort to yelling at every hearing, meeting, and handshake—the Corvette Grand Sport!

Next is the candidate with a great head on its shoulders and some decent ideas, but absolutely no charisma and no electability—the Porsche 911R!

Next up is the "family" candidate, who can't stop yelling at reporters and has trouble holding back its temper from time to time. It's of course the Ferrari GTC4 Lusso!

And how can we forget the candidate that you thought died long ago, but is somehow still raising money—the Spyker C8 Preliator!

And finally the radical candidate who is just on stage to try and steal a few votes away from the others in a desperate attempt to stay politically relevent for at least a few more years, the Zenvo ST1/TS1!

---
So, America (and everyone else), which one has your vote? It's a pretty tough year if you ask me, but I've always got to go with the most level-headed, logical choice. Who will it be for you?
---
Contact the author at justin@jalopnik.com or @WestbrookTweets.