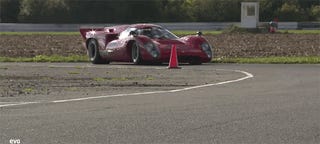 The Broadley T76 Mk3b is not a retrofitted replica but an exact recreation of the 1969 Lola T70, winner of the Daytona 24-hour ran by Penske Racing. Broadley Automotive even uses the original molds for the bodywork that consists of one-piece nose and tail sections. It's that original.
The chassis is an aluminum monocoque made of aircraft-spec sheets, steel fabricated pick-up points, mostly monel solid rivets, an integrated roll-over bar and epoxy-bonding everywhere. The suspension is fully adjustable using unequal length upper and lower wishbones, cast magnesium alloy uprights, Koni coil-overs and equally customizable anti-roll bars.
The brake-balance is also adjustable from the cockpit, which is packed with Smith gauges and toggle switches borrowed from some plane.
All that, plus a furious Chevy V8 linked to a five-speed manual made of magnesium alloy, just like the T76's 15-inch wheels. So, what's it like to drive a brand new 60s Le Mans car?
Marino Franchitti liked it...
It's faster than the quickest Atom Ariel makes. Yes. Yes, yes, yes....YES! It's a yes.
---
Contact the author at mate@jalopnik.com.