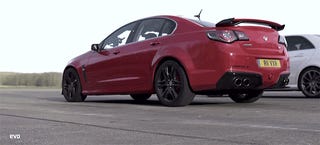 It's a Vauxhall VXR8 GTS against a Mercedes E63 AMG, but while the Merc is slightly faster off the line, that's not what I care about. Given that the Chevrolet SS is getting a manual next year, would you buy that or the Vauxhall if you could?
The Vauxhall VXR8 GTS is such a strange product. It's basically a rebadged Holden that's only on sale in the United Kingdom. The rest of Europe get's the Opel Insignia OPC with 325 horsepower. The VXR8 has a supercharged V8 with 576 ponies. Yet no matter how fun it is, it's hard to imagine too many buyers choosing it over any of the established German super saloons.
The 2015 Chevrolet SS getting a manual is news sent straight from heaven. While at 415 hp, it's much less powerful than the supercharged Vauxhall, that naturally aspirated LS3 will reward you with a sharper pedal and fantastic mid-range acceleration thanks to all that torque from the 6.2.
Let's say Great Britain and the United States would merge to create a superpower where you can buy both cars. Which one would you choose?
Personally, the blown wagon of course.