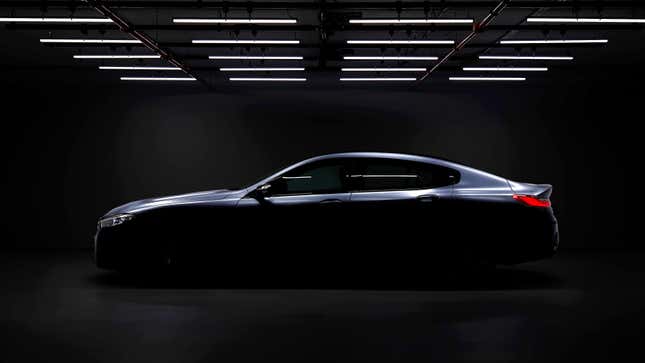 Maybe it's because it's a Friday afternoon after a long week or maybe it's because I'm fed up over this stuff and feeling feisty. Either way, I've taken a look at this teaser image for the apparently upcoming BMW 8 Series Gran Coupe and cannot fathom why it needs to exist at all.
This Is The New Mercedes-Maybach Night Series
Look, BMW already brought back the 8 Series and it was great. It was a modern take on the iconic, sleek, grand-touring sports coupe. Give it an ///M version and call it a day. We don't need anything more than that.
Evidently, BMW disagrees and shared this teaser image of the 8 Series Gran Coupe today. It said via a press release that the car's unveiling will take place at the end of June. Furthermore:
"The two extra doors and impressive space for rear passengers combine with the extended wheelbase and duly enhanced ride comfort to make the new BMW 8 Series Gran Coupe an outstanding operator both in everyday driving and over longer journeys."
So it'll be even bigger and it will have four doors and it will still be called a "coupe" because BMW still hasn't gotten it through its collective head that the word does not mean what it think it means. Coupe! Means! Two! Doors!!!!
And with this four-door luxobarge about to be running around, then what's the point of the 7 Series? The 8 Series already rendered the 6 Series coupe useless; does this mean that it's coming for the 7 Series next?
Let's be real, though—BMW is probably going to keep both because it'll justify that they're different and appeal to different buyers somehow. But we all know the real reason. It's green and rhymes with funny.