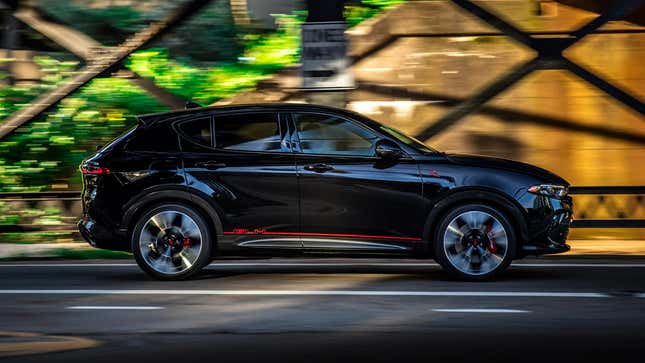 Next week I am driving the Hornet, Dodge's impending entry-level compact SUV that is rumored to be a source of frustration for Alfa Romeo. And I'm very eager to see how I find it — perhaps even more eager than you might expect. Because last time Dodge used an Alfa Romeo as a base for an entry-level car, things didn't go so well. Dart apologist that I am, even I have to admit that. You likely have some questions too, and I want to hear them. Tell me, what do you want to know about the Dodge Hornet?

In case you missed it:
To get the ball rolling, I'll tell you what I want to know. How's it going to stand out? Dodge has carved a nice little niche for itself in the automotive lexicon as the eternal defender of muscle, but Dodge doesn't have much opposition in that arena. By contrast, the Hornet will face competition from just about everyone. Again, this scenario didn't play out well for the Dart.
But the Hornet may have fate on its side, for two reasons. First, a crossover is more apt to sell (and rake in profits) than a small sedan, which should guarantee a baseline of sales that at the very least keeps the nameplate around. Second, Dodge appears to be positioning the Hornet as a semi-premium option in the segment, based on the $31,500 starting price of the base 265-horsepower GT trim. The Honda HR-V, for example, starts at a shade under $25,000, while the Hornet's preppier cousin, the Alfa Romeo Tonale, is decidedly up there, at $45,000. With destination, the Alfa's even $4,600 more than an Audi Q3.
What will the Hornet do to earn that status, though? Will it drive with the spirit of its bigger, older (much older) V8-equipped siblings? I'm sure that's what the mavens of muscle will love for us to believe. Maybe that's more of an expectation for the plug-in hybrid 285 HP, 383 lb-ft Hornet R/T — I'll be driving both the GT and R/T on my trip. Also, how much of those luxury Italian underpinnings might've survived the cost-reduction campaign?
Those are my burning questions. Tell me yours in the comments, and I'll see what I can find out.