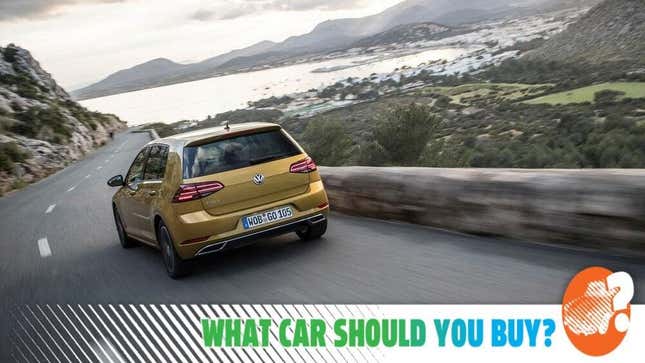 Matthew lives in Grand Rapids, Michigan and wants to upgrade his VW Golf to something a bit nicer and sportier, though he doesn't want it to look too over-the-top. He's on the taller side, and needs room for sports gear, but he despises the idea of owning an SUV. What car should he buy?
Chase Elliott Explains the Challenge of Adapting to NASCAR's Next Gen Car
(Welcome back to What Car Should You Buy? Where we give real people real advice about buying cars. Do you want us to help you find a car? Submit your story on our form.)
Here is the scenario:
I'm a 27 year old who recently purchased a house in a midsized city in the Midwest. I work from home, and I am fortunate enough that I have just about everything I need nearby (no long commutes or faraway destinations besides the occasional regional roadtrip for leisure travel). I am single and have no pets. I am looking to replace my trusty VW Golf with something sportier and nicer. I do go skiing in the winter and cart around my road racing bicycle in the summer, and I strongly prefer keeping both of these inside the vehicle. I could compromise by fitting a bike rack, I suppose.

I'm 6'3" so I have to fit. Unfortunately, FWD or AWD is a requirement because of the amount of snow my city gets in the winter (one of the snowiest in the nation!). Something comfortable, sporty, and not too aggro-looking would be really nice. I like having a manual a lot, but it isn't a deal breaker if the model simply doesn't offer one. I really hate the idea of owning an SUV or crossover. My budget is up to $60,000
Quick Facts:
Budget: up to $60,000
Location: Grand Rapids, MI
Daily Driver: Yes
Wants: Sporty, spacious, understated
Doesn't want: RWD or an SUV
Expert 1: Tom McParland - Four Rings to Rule All Your Needs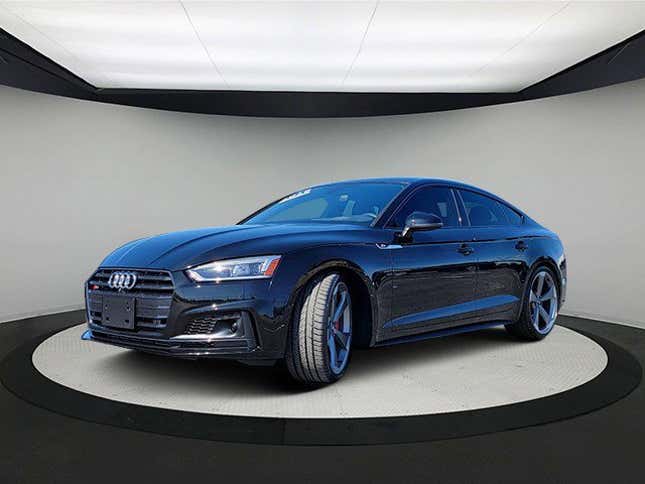 It sounds like you are moving up in the world with a $60,000 budget to upgrade your Golf. That's a good feeling. Of course, the tricky part is figuring out what car is going to check your boxes and still be comfortable for your taller frame. Your desire to have your gear inside your car likely calls for some kind of hatchback or wagon body, since SUVs are out. Since you want something on the sporty side, it seems like a fastback/Sportback model is the way to go.
I say give the Audi S5 Sportback a spin. I'm not 100-percent confident you will fit comfortably, but if you felt okay in your Golf, something tells me the Audi won't be cramped. You are already familiar with the VAG interface so this will be an easy transition. The S5 has a turbo V6 that cranks out around 350 hp and it's mated to Audi's Quattro all-wheel-drive system, so you don't have to worry about sliding around in the winter (though I would still recommend a dedicated set of winter wheels and tires). The Sportback body style gives you pretty generous trunk space with the rear hatch access, and according to this thread road bikes can fit inside with the front wheel removed. The S5 is quick and comes appointed with all the luxury features you would expect from an Audi, but also blends in well — your average person would just view it as a nice luxury car, not a flashy sports car.
Here is a fully loaded Certified Pre-Owned Prestige trim in Ohio with reasonable miles, and you don't even have to max out your budget.

Expert 2: Collin Woodard - Halve Your Budget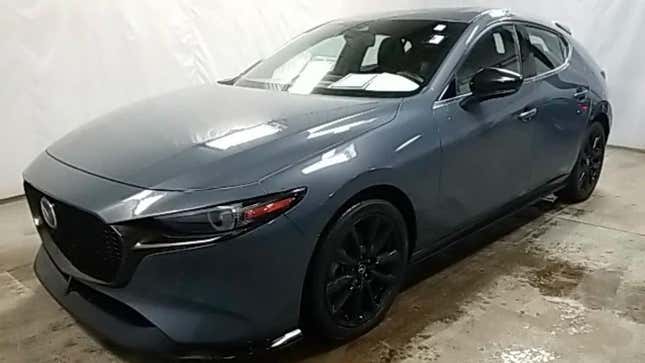 Congratulations on already having your life so together at 27, Matthew. It sounds like you have a job that pays well, several interesting hobbies and your own house. But I'm going to suggest you take a step back and reconsider your $60,000 budget, unless you're rolling in family money that we don't know about, and will be set for life whether you save for retirement or not. Because with a high-end car, you're not just taking on a monthly payment. Luxury cars also come with higher ownership costs, and Edmunds estimates the five-year cost to own an S5 Sportback will be nearly $80,000.
Also, you just bought a house, and while the value of your property will probably increase over the next several years, houses themselves are often expensive to maintain, as well. With all of that in mind, it seems like the smart thing to do is cut your car budget in half and get something that's less expensive to own while you max out your savings and maybe take a few vacations. Your future self will thank you.
That doesn't mean you have to give up everything you're looking for in a Golf replacement. This gently-used Mazda3 hatchback, for example, looks great, offers all-wheel drive, makes plenty of turbocharged power and has a nice interior — you won't regret swapping your Golf for this. At least as long as you fit inside comfortably. Also, while it's not exactly a hot hatch, it makes 310 lb-ft of torque, which should be a nice upgrade.
As I mentioned before, though, we don't know your personal financial situation. Maybe you really can comfortably afford to buy and maintain an S5 Sportback. If you're lucky enough for that to be the case, don't let me be the one to tell you not to do it. They're fantastic cars.
Expert 3: Lawrence Hodge - Sporty, Spacious and Understated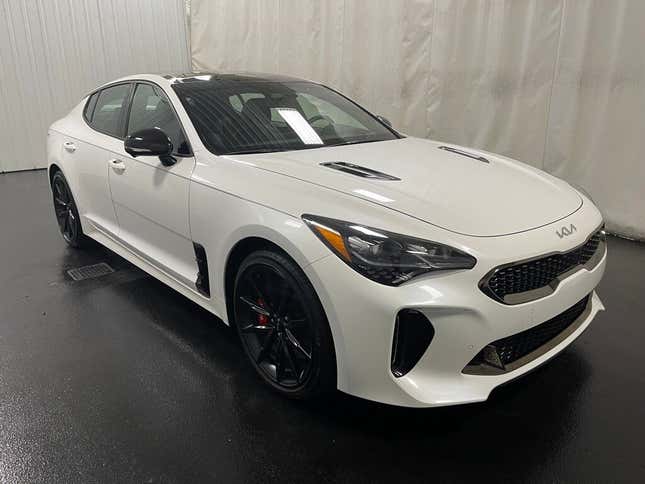 With your lifestyle, its great you aren't considering an SUV or crossover. Luckily there are still options out there for people like you who actually want to enjoy what they drive while still being able to haul things. Why not consider what I believe to be one of the best bang-for-your-buck vehicles of the last decade — the Kia Stinger.
Given your budget, you could easily go out and buy a brand-new Stinger, even though the company has officially canceled the model. But I wouldn't do that. Korean cars have terrible depreciation. It sucks for the first buyer, but it makes the Stinger a fantastic used buy. All you have to do is look at the spec sheet of this example I found. You got a 368-horsepower twin-turbo V6, all-wheel drive, styling that still turns heads (in a "what kind of car is that?" way), and most importantly, cargo capacity that rivals some crossovers. It's the ideal body style, a four-door liftback. With the seats up you get 23.3 cubic feet of cargo space; with the seats folded, that nearly doubles to 40.9. You can literally fit two nice sized mountain bikes in the back if you wanted to.
And remember that depreciation I mentioned? The example I found originally stickered for nearly $57,000. At just over a year old, this one is going for $44,317, a hell of a lot of car for the coin.
Expert 4: Lalita Chemello - Hot Hatch Is Still the Answer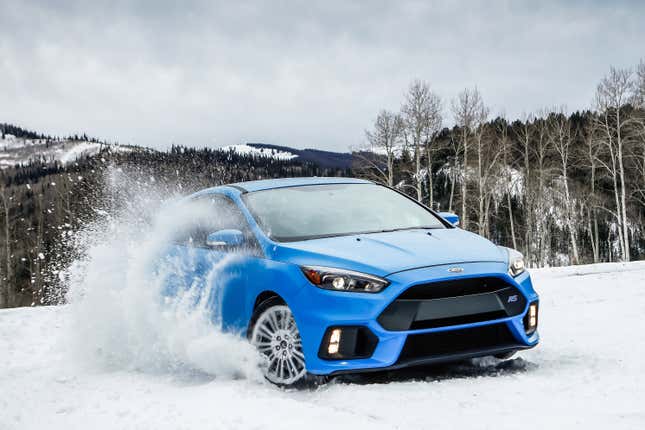 Hello West Michigan neighbor! Congrats on the new house, and clearly having your shit together (a feat on its own). This side of the state is great for outdoor activities and impromptu adventures to the dunes, parks and lake shore. But Lake Michigan is that gift that keeps on giving, and lake-effect snow is no joke. While I drive a Wrangler myself, there's one car that lives rent-free in my head as a "someday" purchase, one that also happens to check all the boxes for your needs: the Ford Focus RS.
First, let's get the elephant in the room out of the way — that very problematic head gasket. Ford came up with a solution to replace those head gaskets in 2018, so if the previous owner(s) kept up on maintenance and repairs, that head gasket (and problematic cylinder head, if found) should have been replaced many moons ago.
With that out of the way, we can focus (heh) on the perks of Ford's hot hatch. The RS is available only as a six-speed manual, paired with Ford's 2.3-liter Ecoboost engine making 350 hp. Also, unlike its other Focus siblings, the RS is all-wheel drive! Want to hit up the Sleeping Bear Dunes? You can easily rally the RS in the sand. Need to navigate Grand Rapids after a mid-winter storm dumped 18 inches of snow overnight? Easy. And fun.
While it is a performance hatch, it doesn't carry itself as the most aggressive-looking vehicle, unless that rear spoiler is a turn-off. If that's the case, you could go for the ST, which would fit the understated style more, though you'd lose the all-wheel drive. You can find an RS like this one in Kalamazoo in the $30,000-to-$40,000 range, which leaves you a chunk of extra cash to snap up accessories like racks for your bike, kayaks, etc. Same thing for the ST.