Good morning! Welcome to The Morning Shift, your roundup of the auto news you crave, all in one place every weekday morning. Here are the important stories you need to know.

1st Gear: Mazda's Got A Whole Lotta New To Show Off
Judging by how the new cycle has gone as of late, you might think every automaker has a new line of electric vehicles in the works. For the most part, that may be true—that is, unless you're talking about Mazda. The Japanese automaker does, however, have something new to show off, and we're about to see what that is at this year's Tokyo Motor Show.
Mazda Motor Corp. will showcase future trends in drivetrain technology and exterior design with two concept cars at this this month's Tokyo Motor Show.

The cars, previewed in teaser shots released Tuesday, point to Mazda's production plans for its next-generation Skyactiv-X engine and the arrival of a new design language.

The first car, a next-generation product concept, deploys the Skyactiv-X engine in a compact hatchback that may foreshadow the redesigned Mazda3, due around 2018 or 2019.

The second, dubbed the next-generation design vision, pulls the wraps on a new styling direction that evolves the curvy, sensuality of the Kodo design language in play since 2012.
G/O Media may get a commission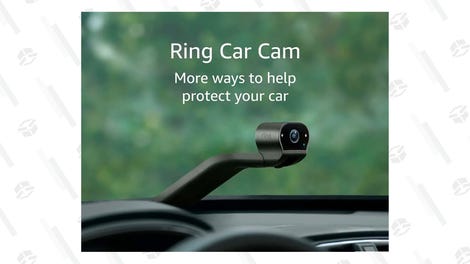 The designs for both, at least judging by the photos supplied by Mazda, look super interesting. Mazda's also showing off its new Skyactiv-X engine, which uses a unique form of compression to achieve diesel-like fuel economy with gasoline. That was unveiled only within the last couple months and should hit the market by early 2019, the news outlet says. Read more on that here.
2nd Gear: NAFTA Talks Are Still Ongoing
The world's a crazy place, so you're forgiven if you didn't remember that discussions between the U.S., Canada, and Mexico, over the North American Free Trade Agreement are still ongoing. And there's a weird tiff developing because both the U.S. and Mexico can't agree on how U.S. content is used in cars made south of the border.
Here's more from Reuters:
Mexico's main automotive industry group said on Monday U.S. content in vehicles made south of the border is far higher than Trump administration officials have argued, as Mexican auto output and exports posted robust growth in September.

The comments came two days before trade negotiators from Mexico, the United States and Canada meet for a fourth round of talks on revamping the North American Free Trade Agreement (NAFTA) in Washington.
Trump's administration released a study last month that showed U.S. content in auto imports form Mexico dropped to 18.1 percent in 2011, Reuters reports down from 26.5 percent in 1995, after NAFTA was implemented. A similar drop occurred in Canada: 34.9 percent to 26.4 percent.
The Mexico Auto Industry Association has a different study, though, and it finds U.S. content to be somewhere around 37-39.5 percent for auto imports from Mexico; as high as 52 percent for imports from Canada.
NAFTA requires at least 62.5 percent of the material in a car or light truck to be comprised of parts from North America to be exempt from tariffs outlined under the agreement. The reason why it's relevant is that Trump administration officials assert that higher content requirements would boost jobs in North America, a fact disputed by the private sector, according to Reuters.
The fourth round of talks, beginning tomorrow, are expected to last five days, the news agency says.
3rd Gear: VW Goes Online
Still reeling from the relentless Dieselgate, which tacked on an additional $3 billion in fines last month, Volkswagen is taking a whack at costs, particularly on how its trying to sell you or I non-cheating cars.
So, Reuters says, it's dabbling with online sales:

Volkswagen (VOWG_p.DE) plans to shrink its European dealer network and introduce online sales as the cost-cutting automaker adjusts to changing purchasing habits in the digital age.

Volkswagen (VW) aims to increase profitability and efficiency at its 3,000-dealer European distribution network by an average 10 percent, VW brand sales chief Juergen Stackmann said on Tuesday.
Frankly, online sales seems like an inevitability, but given the lobbying power of the vehemently old school dealership network here in the U.S., it seems far more likely to launch in other markets first.
4th Gear: Nvidia Has The Brains For A Driverless Car

The self-driving car market is driven by the allure of Level 5, the boring characterization applied to a futuristic robotcar that doesn't even require a steering wheel or brakes. When will we get there? If you ask automakers and developers, maybe as early as 2021, with fully-autonomous cars ferrying you around in a confined space, perhaps on Lyft or whatever ride-hailing app exists then.
It's only a few years, but it definitely feels like automakers still have ways to go. There's a number of players ahead in the field—Google's Waymo comes to mind—and count Nvidia among the crowd: the supplier has apparently built a supercomputer that's capable of operating a fully-autonomous car, according to Automotive News:
The artificial intelligence supplier introduced its Drive PX Pegasus, the latest iteration of its automated driving platform, at its GPU Technology Conference in Munich on Tuesday. The platform can process 320 trillion operations a second, compared with 30 trillion operations on the preceding Drive PX 2platform, which the company says is enough to power full self-driving, or Level 5 autonomy.
Whimsically-named suppliers and startups involved in bringing one of these robotcars to life—Zoox, NuTonomy—feel that Nvidia's Pegasus is the sort of thing that's needed to make them work effectively.
"NuTonomy is building for Level 5 and Pegasus is the kind of platform that will be required to support these types of systems," Karl Iagnemma, NuTonomy CEO, told Automotive News in a statement.

How has no one gone ahead and pre-named an autonomous car Pegasus yet, though? Seems apt. "Pegasus is taking me there." Damn, that'd be wild.
5th Gear: Japan's Auto Industry Reeling From Metals Scandal
A supplier called Kobe Steel has been caught at the center of a brimming scandal in Japan, apparently having supplied falsely labeled products to automakers, according to Automotive News. And now everyone from Toyota, Nissan and Mazda is trying to figure out how bad the damage is.
Here's more from Automotive News:
Kobe Steel, Japan's third-biggest steelmaker, said staff falsified data related to strength and durability of some aluminum and copper products used in aircraft, cars and maybe even a space rocket.

About 4 percent of the aluminum and copper products shipped from September 2016 to August 2017 were falsely labelled as meeting the specifications requested by customers, Kobe Steel said.
A space rocket? Sheesh. Kobe says it has no reports of safety issues related to this, but the supplier apparently also touts Ford and GM as customers, Automotive News reports. It's not immediately clear how many, if not all, of Kobe's customers received falsified material, the news outlet says.
Reverse: Personally, I Think This Song Sucks
Neutral: Mazda's Got New Things
Do you think the SkyActiv-X's tech might catch on? And what about new rotary stuff?