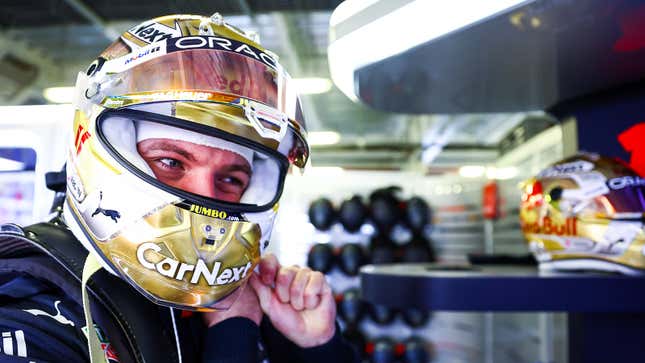 A funny story broke a couple of weeks ago, where Red Bull driver development chief Helmut Marko told German press that Max Verstappen loves sim racing so much, he had a rig installed in his private jet. (You know, the one that makes him, unquestionably, a supervillain.) There's no doubt Verstappen enjoys sim racing almost as much as the real thing, but it turns out this was but a flub on the big boss' part. Verstappen did not transform his hurling metal scythe into a PC gamer's paradise; that would be "a bit absurd," in the words of the two-time Formula 1 world champion.

No — he had the rig installed in his motorhome.
This clarification comes to us by way of Reuters, which actually published a story on Friday titled "Verstappen says Marko confused motorhome with private jet." Look, there's a lot of 2023 left to go, but ask me in 10 months if that's still the year's best headline. I have a feeling it will be.
Anyway, some background. Marko was posed the question by Sport1, after Verstappen's ire in the wake of being repeatedly disconnected from the recent 24 Hours of Le Mans Virtual. Sport1 wanted to know if Verstappen was so incensed that he decided to give up the hobby for good (a weird question, if you ask me) and that's when Marko kicked off the news cycle. Translated, he said:
The opposite is the case. He even had his private plane converted so that he can fly a simulator in the air in the future. But that's a good thing, too, because Max needs this distraction. In any case, it didn't do him any harm when it came to his two titles.
Then, days later while in New York City for the launch of Red Bull's new F1 car and partnership with Ford, Verstappen explained the miscommunication to reporters:
Verstappen said he had been talking to Austrian Marko last year about the new motorhome he was building for use at the European rounds.

"I said I will install one (a simulator rig) there because I just can keep on driving when I'm back in the evening because I like it. It's my hobby in a way. It just keeps you sharp as well," he said.

"I think he misunderstood and he said plane. So no, I'm not installing one in my plane. I think that would be a bit absurd."
Two thoughts. First, I love how much Max Verstappen loves sim racing. It's admittedly a little weird, in that I can think of few other things I'd want to do in my free time than simulate my day job. But that's what separates the twice F1 champ from the guy writing about the twice F1 champ. That's literally the only thing.
Second, I'm really curious as to why Verstappen feels installing a sim rig in a private jet is so much more absurd than installing one in a motorhome. You could actually play in the air. In the motorhome, Max is limited to logging on once he's reached his destination. I suppose he could try while on the move, but steering a fake car while sitting inside and being subject to the forces of a real car seems like a surefire way to induce vomiting and the worst migraine imaginable. In a plane there will be occasional turbulence, but aside from those instances it seems like a lovely way to pass the time.
"But wait," I hear you saying. "Delta charges me $42 a minute for a 512-Kbps connection. How's he going to join a session at 36,000 feet?" Well, of course he doesn't have to play online; iRacing has AI these days, and solo hotlapping would still satisfy Verstappen's primary objective of staying sharp, while also allowing him to kill a few hours, transcontinental style.
But if he did want a spot of real competition, Starlink will supposedly soon begin offering 350-Mbps, "low-latency" internet for aviation applications. The price, I think Verstappen would agree, is indeed "a bit absurd" — it requires a one-time hardware charge of $150,000, followed by recurring monthly fees ranging from $15,000 to $25,000. But that's also probably within the champ's approximate budget of endless, and seems like the perfect upgrade for a supervillain's jet. Besides, a year's worth of upkeep probably isn't too far off from what a high-end gaming PC build costs these days.
Consider it, Max — that's all I'm saying. You've already made one bad decision. What's another?