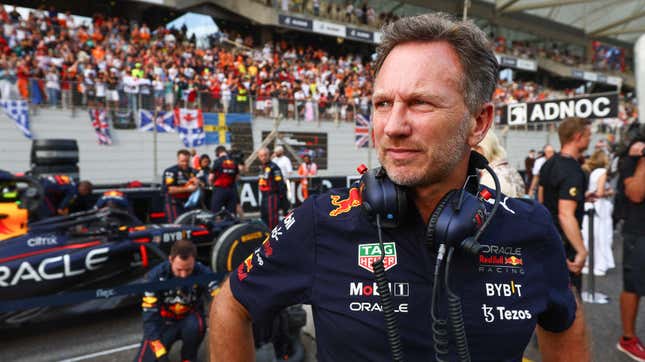 Today, Ford and Red Bull announced a new partnership, allowing the American automaker to return to Formula 1 in 2026. But the Red Bull Ford Powertrains logo that appeared during the announcement might have caused some confusion amidst the excitement. Red Bull Racing formed an independent company in 2021, called Red Bull Powertrains, aimed at developing an in-house power unit to debut for the 2026 season. The engine development arm already tested what is now the Red Bull Ford power unit for the first time late last year. In other words, despite the Ford name, it's not exactly a Ford engine in F1.
Speaking with media at the launch, Red Bull team principal Christian Horner clarified the new partnership between Red Bull Powertrains and Ford. "There's no change in shareholding or formation of the company," Horner said. "It's a contractual relationship with Ford. It's a multi-year agreement covering the next phase of the engine regulations. The roles are clearly defined, which both partners are going to do."
Ford's financial support and technical expertise will undoubtedly be of great use to Red Bull Powertrains. Horner also noted that Ford is at the forefront of electric vehicle development. In terms of knowledge, the American automaker will contribute to development of the 2026 car's battery and hybrid system. Electric power will play a more significant role in Formula 1 in 2026. 2026's 1.6-liter V6 engines will be fitted with a 469-hp electric motor, a 309-horsepower increase over the current generation. The entire power unit will produce over 1,000 horsepower.
This sort of technical relationship isn't new for Ford in Formula 1. The legendary DFV F1 engine that raced wearing Ford badges on its valve covers was primarily developed by British engineering firm Cosworth, funded by the Ford Motor Company. Lotus was initially given exclusive rights to compete with the V8 motor in the late 1960s, but Ford renegotiated and won use of the engine. In 2026, Red Bull Racing and Scuderia AlphaTauri will use the power units developed by Red Bull Powertrains and Ford.