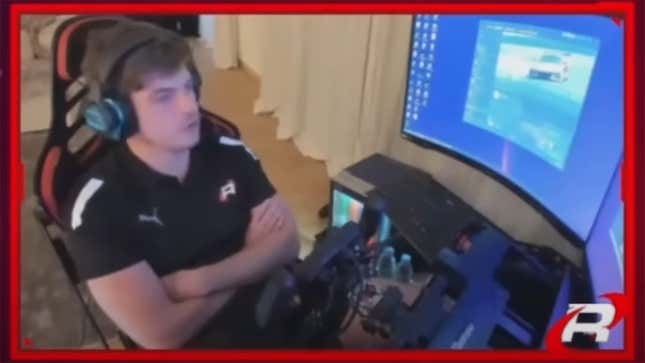 This past weekend marked the 2023 24 Hours of Le Mans Virtual, hosted by Motorsport Games in rFactor 2 and featuring the world's best real and sim racing drivers. It was Motorsport Games' third time running the show, and after 2022's mostly drama-free event, there was little reason to anticipate problems. Unfortunately, this one didn't go as smoothly: seventeen hours in, Max Verstappen said he really hoped "everyone uninstalls the game."

How did we get here? The first seven hours of the contest on Saturday saw two red flags caused by security breaches of the server on which the race was being hosted, resulting in more than an hour of downtime. Gérard Neveu, the executive producer of the event, explained the situation like this after the checkered flag:
After some initial investigation, it seems that some race competitors accidentally shared to the public the IP addresses connecting them to the server, which is not supposed to happen. This put us in a weakened position, and we were subjected to some security breaches which caused the global disconnection of all competitors. It should never happen if the IP addresses are well protected.
Indeed, anyone browsing rFactor 2 servers on Steam during the 24 Hours of Le Mans Virtual would have seen the server's full IP address and name identifying the session plain as day, practically begging for repeated trolling: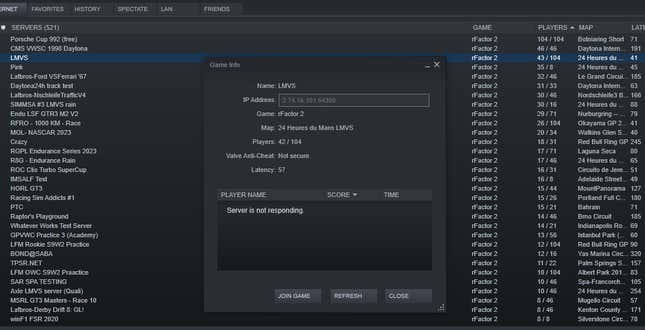 Astonishing as that is, it only explains half the story. Max Verstappen, competing in Team Redline's No. 1 Oreca 07 alongside teammates Jeffery Rietveld, Luke Browning and Diogo Pinto, battled for the lead all day and into the night hours. At about 5:30 a.m. on Sunday, seven other cars were simultaneously disconnected. All of them got their distance back, due to a Race Control rule that returned laps to disconnected cars so long as a group of four or more was affected.
A little more than an hour later, the No. 1 Redline car, with Verstappen at the helm, dropped out along with the No. 100 Arnage Competition LMP, according to Traxion. Both cars returned to the race but neither was given back laps lost, because the total number of cars disconnected at once was less than four. Verstappen, now in 14th, was informed Race Control wouldn't take action and he promptly retired the car. Then, live on stream, he said this:
They call it amazingly bad luck — well this is just incompetence. They can't even control their own game. And this is already the third time this happens to me now, that I get kicked off the game while doing this race.

It's also the last time I'm ever participating, because what's the point? You prepare for five months to try and win this championship, you are leading the championship, you try to win this race which you have prepared for two months and they handle it like this. I mean, every two red flags they blame it on — I don't even know — people DDoSing the server. They cancel the rain because probably that's already a big influence, and then people are still getting disconnected. And now of course at one point also we were hit by it and then, they're just not dealing with it, because they need even more people to disconnect [to issue laps back].
Changing weather conditions were thought to have increased the load on the server. That may explain why the track was returned to a dry state following one of the red flag periods. Verstappen was also seemingly caught out by a "connection glitch" in one of the Mulsanne chicanes earlier in the race, forcing a spin. You can pinpoint the moment his car lags in the replay:
The two-time Formula 1 champ had more to say:
Honestly it's a joke. You cannot even call this an event. It's a clown show. That's why it's better to retire the car because, to drive around in P15 for six hours makes no sense for everyone. It's a disgrace for all the effort we put in as a team. I really hope the organizers also, they consider where they put this race going forward. Because, on this platform, it's not going to work. Game over ... I think I have [a better] chance if I go to Vegas and I just go to the casino. I think I have more [of a] chance to win.

It's just a shame for everyone in the team. I mean we all wanted to do well here, prep, and then you get this. [Sighs] Well, I think I'm gonna uninstall the game. That's nice. Frees up a bit of space on the PC anyway. And I really hope everyone uninstalls the game.
Verstappen later reiterated many of these comments on Discord, while adding that he hopes the sim racing community "can build something nice somewhere else," because "teams, brands and drivers deserve it." Romain Grosjean — himself a driver of the winning car in the GTE category — took issue with Verstappen's comments, likening a disconnection to a mechanical failure in a car. Frankly I couldn't invent a better response to that false equivalency than Bradley Philpot's, so I'm just going to embed that here:
The trouble with Verstappen's "let's push Le Mans somewhere else" idea is that teams, brands and drivers can't go anywhere else, certainly not if they seek the official backing of the Automobile Club l'Ouest, the organizer of the 24 Hours of Le Mans. Motorsport Games re-upped an exclusivity deal with the ACO in 2021. As a result, iRacing — another racing sim popular with pros — had to make significant changes to its own annual Le Mans event. iRacing was also forced to cancel its own Indy 500 and tell players they're no longer allowed to stream any sessions involving the Dallara R18, DW12 or IR-05, due to Motorsport Games' terms with Indycar. The publisher's first Indycar title is due for release later this year.
Tying up racing series in lengthy exclusivity deals, cutting out all competition and delivering glitchy products has quickly tarnished Motorsport Games' reputation in the sim racing world. The company's ledger could be suffering for it, as its Nasdaq share price dropped below $1 last summer, forcing an emergency reverse stock split to keep it listed. In November, Motorsport Games lost a slew of key personnel. And, just yesterday, a new report from Insider Gaming citing anonymous sources within the company claimed one employee is blackmailing the publisher by threatening to leak the source code of four games — including the upcoming Indycar title — if employees aren't handed unpaid wages by January 25.
Things certainly haven't been trending up for Motorsport Games, but I for one did not have "Max Verstappen tells gamers to uninstall rFactor 2" selected on my bingo card for 2023. Kind of makes you wonder what's going to happen next — it could be literally anything at this point.