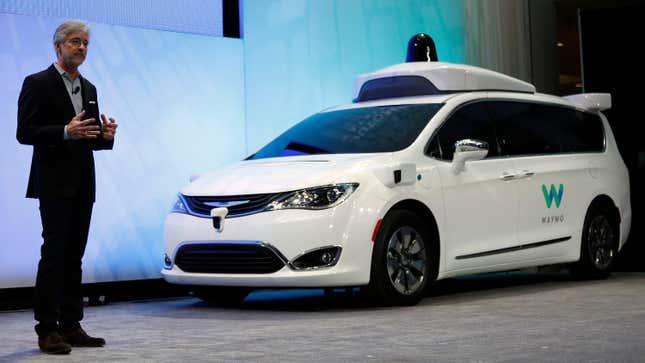 Waymo's Chrysler Pacifica Hybrid minivans have nearly turned their final fares. The Google-affiliated driverless tech company will pull those vehicles out of its rotation in Phoenix's East Valley next month and replace them with similarly-equipped Jaguar I-Paces, to build toward a battery electric-only fleet.

In case you missed it:
The company announced the sunsetting via a blog post on Friday. With this news Waymo joins the White House's EV Acceleration Challenge to promote electric-only corporate and government fleets. Waymo also says expanding its use of Jaguar's EV will help it prepare for its next-generation electric robotaxis that it's partnering with Zeekr to build.
Switching from a gas-powered fleet to an electric one carries its own challenges, of course. Overall range is reduced, and it takes considerably longer to top it back up, which cuts into time spent out on streets, making fares.
That said, this is nothing Waymo hasn't done before. The company has been deploying I-Paces for years now — just not in this particular region. It also only ever took delivery and operated fewer than 1,000 Pacificas, despite the company's deal with Stellantis to buy 62,000 of them over an undisclosed period of time, as The Verge reported back in 2018. As of early 2022, Waymo had about 700 vehicles on streets across California and Arizona, per TechCrunch. Even then, a significant portion of that total was not in active use at the time that figure was published.
Waymo plans to retain some of the hybrid vans for museum purposes and to map new markets, according to Automotive News. The company still intends to collaborate with Stellantis by using Ram ProMaster cargo vans for delivery trials, while testing of the purpose-built Zeekr vehicle is slated to begin before the end of this year.