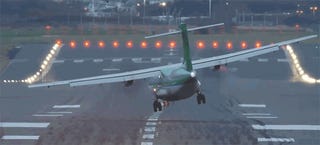 Birmingham airport in the United Kingdom is known for its difficult winds, and these small turbo prop airliners get tossed around like rag dolls. These pilots earned their pay as they safely deliver their precious cargo.
A mix of airliners operating a collection of regional aircraft like the Bombardier Dash 8 and the ATR 72 struggle for control as they attempt to get the gear firmly on the ground while battling the gusty crosswind.
Some of the talented pilots handle the challenge surprisingly well, while others decide landing on the nose gear is an acceptable method. Others abandon the landing altogether and go-around to try again.
(Hat tip to ttyymmnn)