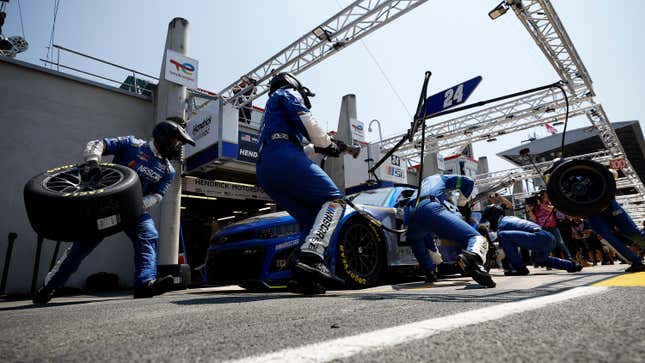 The NASCAR stock car competing in the 24 Hours of Le Mans this weekend might feature actual headlights and aerodynamic dive planes, but the Chevy Camaro hasn't gone completely native. Unlike the other cars on the grid, air jacks haven't been installed on the Chevy. The NASCAR Garage 56 crew is sticking with a conventional floor jack for the endurance race, but still proved to be one of the best teams on pit lane.
In the annual Le Mans Pit Stop Challenge, Garage 56's Hendrick Motorsport crew was able to put their skills to the test against the best that endurance racing had to offer. The NASCAR team, again the only one with a manual jack, performed an impressive 10.364-second pit stop. The crew was fastest of all 16 GTE class entries and fifth overall, only 0.3 seconds behind the leading Hypercar team. Hendrick Motorsports Pit Crew Coach Evan Kureczka said in a release:
"It was actually our fastest stop of the day, so I would say I was surprised, but also very pleased. You can tell the fans were very impressed with the fact that we were using a jack to jack the car up. You could see the smiles on their faces, we put on a great show for the fans."
2024 Nissan Z NISMO | Jalopnik Reviews
In the NASCAR Cup Series, how fast a pit stop is can determine whether or not a driver wins the race or, in some cases, the entire championship. Big teams, like Hendrick Motorsports, have dedicated pit crew members whose job is to perform the quickest stops possible. In other categories, crew members must also juggle serving as the team's mechanics.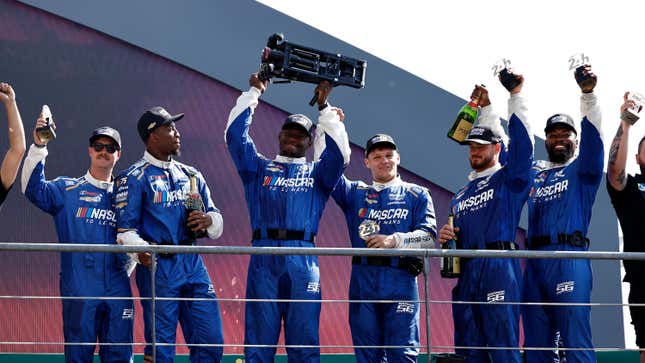 The Garage 56 team has come to Le Mans to impress, so don't be surprised if the legendary driver lineup of Jimmie Johnson, Jenson Button and Mike Rockenfeller are going wheel-to-wheel near the front of the GTE field.