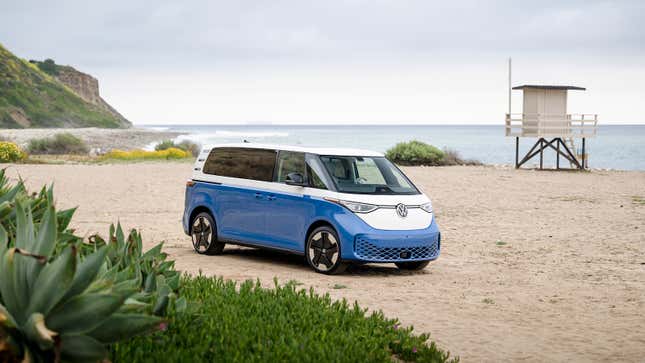 Volkswagen's ID Buzz electric van is awesome. I got to spend some time poking around it in a studio last year, and while I didn't get to drive it, I will say that VW nailed all the look and feel stuff. It's retro without being cutesy, and it will offer real practicality for people who want or need that van form factor, but what if people need more space? Like specifically a third row of seats?
VW has you covered there, too, with the introduction of the US-spec three-row ID Buzz electric van on Friday. Other than an extra row of seating vs the non-US versions, though, what does it offer buyers? To start, it'll be available in either rear-wheel drive or all-wheel drive, with the rear-wheel drive variant making a perfectly adequate 282 hp and the AWD version making 330 hp.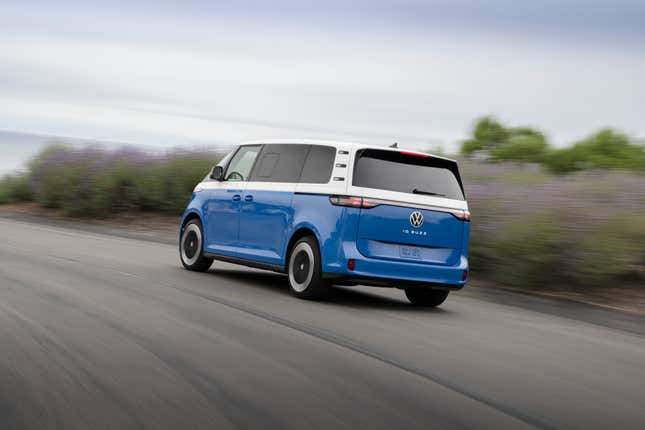 Top speed is still limited, though the three-row gets a 99 mph limit vs the rest-of-world two-row's 90 mph limit. Both AWD and RWD versions come with a pretty chunky battery pack rated at 91 kilowatt-hours, a substantial upgrade over the two-row version's 82 kWh pack. Max range is still TBD, but we'd expect somewhere near 300 miles at least with a pack that big.

Other rad features include VW's largest panoramic glass sunroof with (thankfully) an electrochromic layer that allows drivers to control the glass' opacity. If you've never tried to drive an EV with a glass roof through a California summer, I suggest keeping it that way. It's miserable.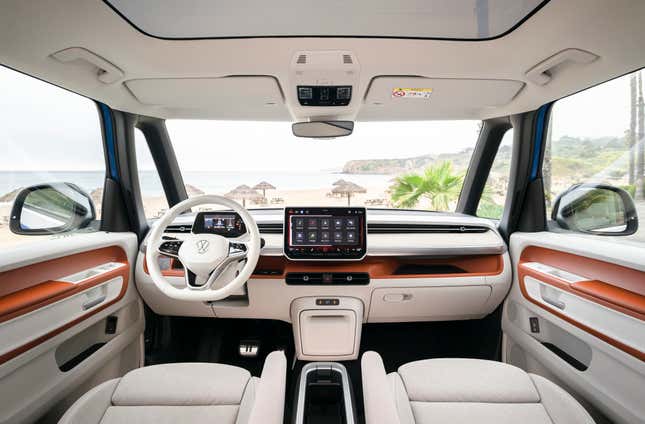 Buyers have a couple of choices when it comes to seating. Either they can have a second-row bench seat with a 60/40 split that gives seating for seven people, or they can have second-row captain's chairs which reduce maximum occupancy to six. That bench seat has a surprising amount of fore/aft movement, too — 7.9 inches — to make sitting in the way-way-back less uncomfortable.

Also new for the three-row is an infotainment upgrade to the same system that's in the forthcoming ID 7 sedan, though its hard to say if that's an upgrade for sure, considering it goes the same "get rid of all the buttons" route that the current GTI did and that thing is freaking lame to use.
Volkswagen says that the ID Buzz three-row will go on sale in the US sometime in 2024, and we don't have word yet on pricing.