You'll perhaps be as surprised as I was to learn that Volvo offers a car for sale that is over $100,000. But here we are! The XC90 T8 Excellence racks up at $105,895. It seems the brand overestimated the market for a six-figure Volvo. The company is now offering a rebate of over $23,000 to move some units.

The Volvo XC90 is a fantastic luxury SUV. Right now, a lot of people are flocking to the showrooms for what is basically a high-riding, bloated wagon.
Volvo thought they could go toe-to-toe with Range Rover with the 400 horsepower hybrid T8 Excellence. Unlike the more pedestrian versions of the XC90, the Excellence features opulent upgrades such as a spacious 4-person layout with reclining rear seats, a 20-speaker sound system, a rear-seat refrigerator and matching crystal gear shifter and drink glasses.

As I mentioned above all this opulence comes with a hefty price tag of almost $106,000. Our friends at CarsDirect.com got the scoop on an unadvertised $20,000 dealer rebate which when combined with a $3,500 conquest incentive, means a massive discount.

G/O Media may get a commission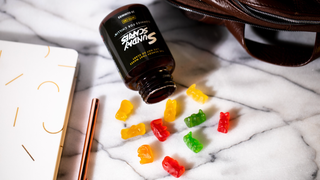 10mg CBD Gummies (22-Count)
CarsDirect.com's pricing expert Alex Bernstein said, "This is the single largest discount on any vehicle at the moment."

Now the good news doesn't end there. Some dealers are throwing even more cash on the hood to move these top of the line SUVs. One dealer in New Hampshire is offering almost $9,000 in addition to the rebates bringing the total discount to $32,395.

Alex notes that the XC90 Excellence is a limited production car, so if you are in the market to drop a small fortune on a Volvo SUV now is your chance to grab a deal before they are gone.